How Wall Street Strategists are Trading the Current Market
Were you stuck in line waiting for a new iPhone Friday? Perhaps you were waiting around for the big Alibaba (NYSE:BABA) IPO instead?
Either way, you missed the biggest event of the day.
That's right — stocks hit brand-new highs Friday. Again…
"Think about that for a second," muses our own trading guru Jonas Elmerraji. "Theoretically, October 2007 was the worst time to buy stocks — it was the market peak right before the 2008 market crash. But if you put your entire net worth into the S&P 500 right at the top, you'd actually be sitting on 30% gains just by holding on until today."
However, I'd like to think your timing wasn't that terrible. After all, you don't just throw all of your money at the market once or twice per decade, do you?
So if you tried to sneak some cash back into the market in 2009, you'd know the S&P is up 195% since its March 2009 bottom. And even if you waited until 2010, 2011, or even 2012 to put you money back to work in stocks, you'd be enjoying considerable gains…
"And it would be equally crazy not to think about whether this market is overbought right now," Jonas interjects. "More importantly, the answer could save your portfolio from the next crash."
So how the heck can you figure out if the market is ripe for a nasty fall?
To try and answer this question, let's take a look and see what the big funds are doing…
"It might surprise you to hear that stock buying hasn't driven this post-2008 rally," Jonas explains. "Participation among both retail and institutional investors has been at record lows in recent years. And big firms are still advising folks to stay out of stocks overall."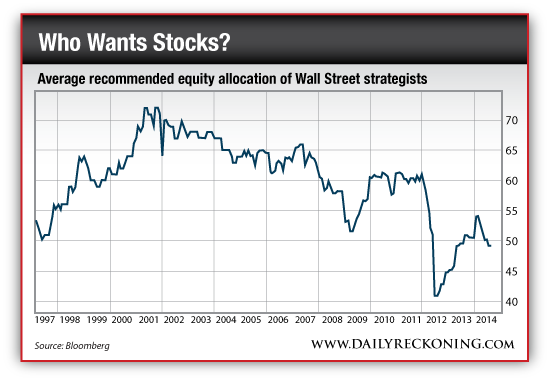 "This chart shows the average stock allocations recommended by Wall Street strategists at firms like Bank of America, UBS, Oppenheimer, and HSBC," Jonas continues. "It's a good barometer for how heavily funds are invested in stocks. As you can see, that blue line has been in decline for more than a decade. Put another way, Wall Street is telling funds to hold a lower percentage of their portfolios in stocks than they did when everyone was panicking in 2009…
"It's not just the pros — many of the individual investors who sold their stocks during the financial crisis still haven't bought them again either. Just look at Fidelity Investments, one of the biggest mutual fund companies in the world — it's historically been thought of as an 'equity shop', meaning that most of the money it manages is in stocks. Back at the start of 2007, 67% of the firm's assets were invested in stocks, and its biggest mutual fund was the stock-focused Contrafund. But today, only 47% of the firm's assets are invested in stocks — its biggest fund is now a cash management fund."
However, Jonas notes that while there are certainly few buyers, there are even fewer sellers.
"The S&P may be above 2,000 again," Jonas concludes. "But there's no question that stocks are actually under-owned right now."'
Regards,
Greg Guenthner
for The Daily Reckoning
Ed. Note: Regardless of what the market is doing, there will always be a place for you to invest your money and watch it grow. Greg Guenthner relays this kind of information every single morning, right around the opening bell, in his FREE Rude Awakening e-letter. In each issue, readers are given a quick and dirty rundown of the markets, including 5 specific numbers to watch, 3 chances to discover real actionable profit opportunities and the most important trends you need to be following right now. Don't miss another issue or recommendation. Sign up for The Rude Awakening, for FREE, right here.