A Simple Way to Navigate the Ugly Start to Fall Trading
An ugly start to fall trading is pointing toward a market pullback…
I'll show you exactly what to do to prepare for a potential correction in just a minute. But first, let's take a closer look at some of the market's latest warning signs.
Nearly 80% of all stocks trading on major exchanges ended Monday in the red. Hot IPO's like Alibaba? They just couldn't stay afloat. Alibaba coughed up 4% before the closing bell. And it's not just the popular momentum stocks that are suffering. More than 66% of all stocks trading on major U.S. exchanges are in the red during the month of September.
Exactly one week ago today, I warned you about the "tale of two markets". Even though the mega-caps and blue chip stocks held their ground, trouble was beginning to brew just under the market's surface. The most obvious disconnect was the Nasdaq. The tech-heavy index dropped more than 1% that day, while the Dow managed to post a small gain.
But it wasn't just the performance of the tech stocks that had me concerned. Small-caps had already forsaken their August comeback rally. Today, the Russell 2000 sits even lower as it continues to underperform every single major American index…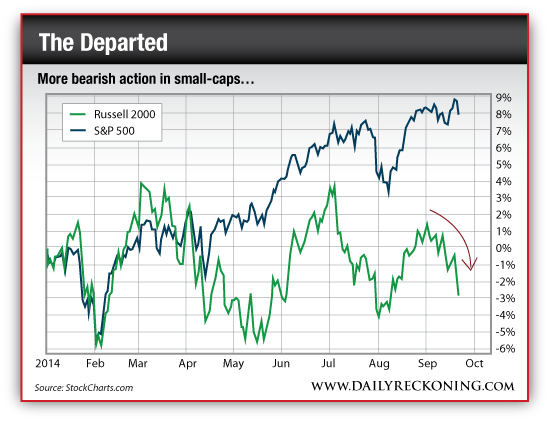 The Russell is down nearly 3% on the year. Now, everyone's chattering about a brewing "death cross". That happens when a shorter-term moving average crosses below a longer-term moving average. While the phenomenon does have a catchy (and scary) sounding name, there were plenty of warnings that small-cap momentum was fading dating all the way back to May when the Russell failed to rally hard with its large-cap cousins — and again in September when small-caps failed to post new highs along with the S&P. To me, these are much more powerful signals than the spooky "death cross"…
The solution to all of this craziness? My recommendation from last week still stands: sell some of your winning trades and rotate out of popular momentum stocks.
Regards,
Greg Guenthner
for The Daily Reckoning
P.S. Remember, rotation is key as the market fluctuates. Sticking with the strongest stocks will help you survive any potential downdraft over the next several weeks. Click here now to sign up for my Rude Awakening e-letter, completely FREE of charge, and you'll have the chance to discover real, actionable stock picks that could show you huge gains as this story progresses.