When it Comes to Tech Stocks, It Pays to Buy the Best
Second place is the first loser. At least that's what the market was whispering during Tuesday's selloff.
In case you were too busy picking your teeth up off the floor after yesterday's kick in the face, allow me to fill you in on the details…
"75% of the companies in the Nasdaq Composite are either in a pullback or are outright bearish."
Most stocks took yet another beating. The major averages all ended the day on their lows. Small-caps remain in free-fall, with the Russell 2000 dropping another 1%. That means it's now down more than 7% from its July highs and, as ZeroHedge pointed out just after the close, year-over-year small-cap performance is the worst it's been since July 2012.
It's the kind of market that makes you want to run and hide. From stocks to commodities, there's pain almost everywhere you look.
However, yesterday's action did show us where we might be able to weather the storm — and what sectors to avoid. Just check out the downright awful performance of tech stocks
"As of Monday, 608 of the 2,558 companies in the tech-heavy Nasdaq Composite index are between 10% and 19.99% below their 52-week highs. Even worse, 1,327 of the index's stocks are 20% or more below their respective 52-week highs," Yahoo! Finance reports. "In other words, 75% of the companies in the Nasdaq Composite are either in a pullback or are outright bearish."
This information alone probably means you should sell your tech stocks, right?
Sure. Makes sense…
But what about the very best tech names? How are they performing relative to their peers?
Take a look: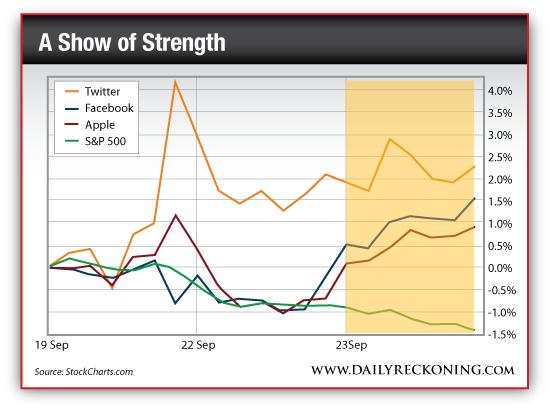 Twitter, Apple, and Facebook all climbed higher yesterday. While most folks are selling their tech stocks, best-of-breed names are still attracting buyers. This action gives you a couple of important clues about the market.
First, it shows you that traders and investors are in risk-off mode. They're ditching small stocks left and right and sticking with their core holdings.
Next, it's obvious that there's no rising tide lifting all the ships right now. Only the best, most recognizable large-cap tech names are outperforming the averages. So it makes sense to stay away from the smaller, more volatile plays that are getting sold off this week…
Regards,
Greg Guenthner
for The Daily Reckoning
Ed. Note: For a closer look at the markets — including daily market trends to follow, 5 numbers to watch throughout the trading day and 3 specific chances to discover real, actionable profit opportunities — sign up for the FREE Rude Awakening email edition, right here.