3 Reasons to Bet Big on One Unloved Market Sector
One of the worst performing groups of stocks on the market is setting up for a huge bounce.
Since late June, energy stocks have slowly retreated. This previously red-hot sector overheated after a furious rally — and has fallen way behind the rest of the market. That's the number one reason I've been avoiding this sector for the past several months.
Don't believe me? Take a look at the performance of major sectors over the past three months…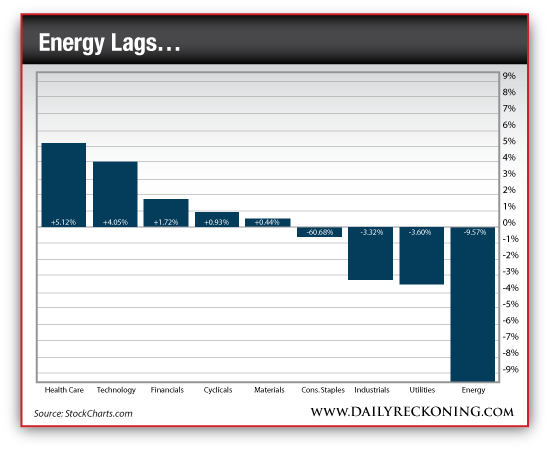 As a group, energy stocks are down nearly 10%. Most investors have left this sector for dead.
However, I see signs that are pointing toward a significant bounce. If you have the guts to buy these stocks now, you could even have a shot at riding these energy names to new highs by the end of the year…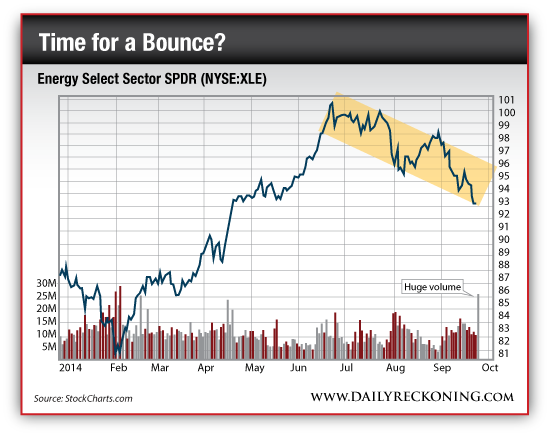 There are three main reasons I want you to take a shot at energy stocks right now…
1. Buyers are appearing toward the bottom of XLE's trading range
Energy names have been drifting lower for three months in an orderly fashion. Yesterday, many of these stocks surged off their lows on heavy volume. That gives you a low-risk entry point right near potential support.
2. XLE looks primed for a big bounce off its long-term moving average
$92 is an important price for XLE. It's just above its 200-day moving average (not pictured in our chart). It's also right next to horizontal support that formed back in May when energy names were consolidating for their big run higher in early June.
3. The 3-month round trip gives you a shot at a "reset trade".
Here's where your reset trade comes in. That big move back in June that sent energy stocks parabolic? It's been totally wiped out. 100% of those gains from June are gone and XLE has backed out of nosebleed territory. The shareholder base has turned over. All the momentum players who were trying to book quick gains in June have disappeared and investors who were late to the party have been stopped out.
June's surge was unsustainable. By the end of the month, most energy stocks were extremely overbought by almost every metric you can imagine. These stocks needed a hard reset — and that's exactly what they received over the next three months…
Now, you have the perfect low-risk opportunity to buy energy stocks for a potential bounce.
Regards,
Greg Guenthner
for The Daily Reckoning
P.S. If these stocks continue to recover, energy could once again be the must-own sector heading into the final months of the year… Don't miss out on any of the potential gains waiting for you in this sector. Follow along with me and my Rude Awakening readers, as I uncover the best ways to rake in huge gains in this corner of the market. Click here now to learn how to sign up for FREE.