Limit Your Exposure to this Down-Trending Market Sector
If you bothered to check on the markets yesterday, you were greeted with a sea of red.
Stocks or commodities — it really doesn't matter where you looked… Every ship was sinking. Yes, it was a difficult day for stocks. But it's not the end of the world (or the end of the trend). We'll have to see plenty more follow-through on the downside to declare this party over…
Still, there are some ugly, nasty trades out there. One of these trades in particular has me worried…
I'm talking about emerging markets. Just a few weeks ago, I noted that the iShares MSCI Emerging Markets ETF (NYSE:EEM) was sprinting toward new year-to-date highs. At the beginning of the month, EEM was up a little less than 11% this year, compared to a gain of 8.6% in the S&P 500. And one of the big reasons emerging markets were getting a breakout boost was thanks to a furious 2-month rally in China, which I considered one of the most hated markets in the world.
Back in the spring, I called emerging markets the best potential comeback story of the year. Remember, emerging market funds were crushed during the first quarter. Investors yanked more than $50 billion from emerging market stock and bond funds. After 2013's strong run higher for U.S. equities, there simply weren't many eyes on emerging market names.
However, this summer's big breakout changed everything for emerging markets. At least that's what it looked like at the time…
A strong rally from mid-May to September piled on gains of more than 10% for the iShares MSCI Emerging Markets ETF. Shares of EEM had finally topped their 2012 highs and had some momentum heading into the fall. That's when everything started to fall apart.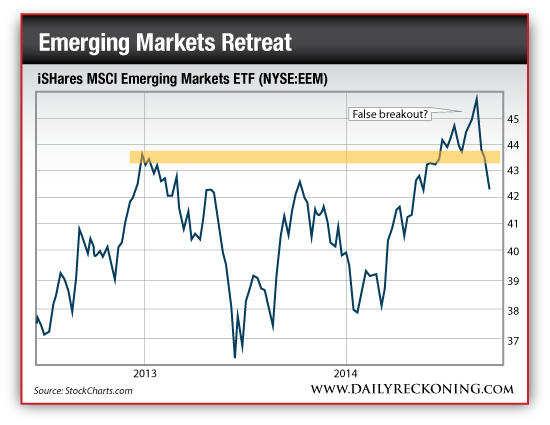 Shares of EEM are now down more than 8% over the past three weeks. That's brutal. False breakouts like this — when you have a name breaking out to new highs only to retreat back into its previous trading range — are exactly what you don't want to see.
If we continue to see weakness in emerging market shares — particularly Brazil and China — EEM could spiral much lower. If you're invested in any of these trends, now is the time to take some money off the table.
Regards,
Greg Guenthner
for The Daily Reckoning
P.S. I've got a few other tips for you, but to get them, you have to be one of my Rude Awakening readers. It's a FREE e-letter service I provide for a handful of investors who want to know which trends to follow each trading day. Every morning — near the opening bell — I'll give you a quick rundown of the trading day ahead, followed by 5 important numbers to watch, the prevailing trend of the day and 3 chances to discover real, actionable stock picks. Don't miss another issue. Click here to sign up for The Rude Awakening before you do anything else today.