How to Spot a Market Top
World markets are beginning the new week with a new case of the jitters…
Escalating pro-democracy protests in Hong Kong are helping to fan some selling this morning. Hong Kong's Hang Sang Index has slipped into the red for the year. Stocks in Europe are lower. U.S. futures are in the red. Last week's performance doesn't help matters. The S&P slid 1.4% — even after taking into account Friday's comeback move.
Cue the doomsday predictions! Surely, these series of events will catalyze a major shift in the markets.
Or maybe not…
"What's interesting here is the fact that the media is already talking about a potential top in stocks," says our own Jonas Elmerraji.
Jonas was nice enough to collect some of the more ridiculous financial headlines over the weekend:
"Apple, Alibaba Hype Could Signal a Market Top" — USA Today
"Can the Stock Market Keep Going Higher?" — Wall Street Journal
"U.S. Stock Market Hitting a Reality Wall" — Forbes
So on top of the "global unrest" headlines, we have big tech stocks, IPOs, and rich valuations to blame for the forthcoming market top.
"It's telling when that much doubt creeps into the big financial press," Jonas continues. "There's money to be made when other investors start going off the deep end. Anecdotally, the bearish sentiment from last week felt a lot like the panic that I wanted to see back in August when we bought the dip in the S&P 500 — it's the sort of panic that typically precedes a great buying opportunity."
Even taking last week's terrible performance into account, the S&P is still well within its "buy the dips" channel…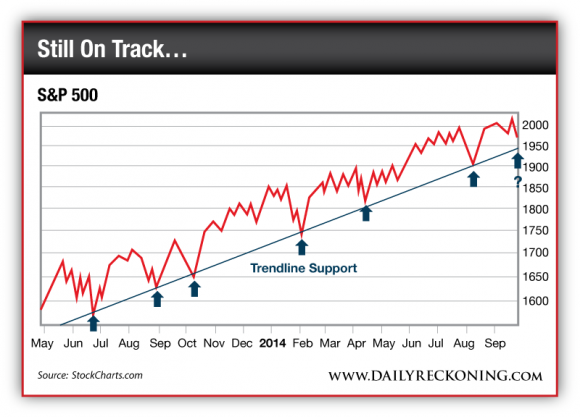 "The bottom line is that, from a technical standpoint, literally nothing has changed in the last week or two," Jonas concludes. "The S&P 500 is still bouncing around in the same exact uptrend that we've traded all year long. The big index has been a 'buy the dips market' for going on two years now – and we're coming up on another dip. In other words, Mr. Market is doing exactly what we expected."
Regards,
Greg Guenthner
for The Daily Reckoning
Ed. Note: So the market is still trending up… so what? If you don't know which dips to buy, you're likely to miss out on the biggest possible gains. That's where The Rude Awakening e-letter comes in… Every morning, right around the opening bell, Greg Guenthner sends his loyal group of readers a quick rundown of the trading day ahead — including 5 specific numbers to watch and at least 3 chances to discover real, actionable stock picks. And it's completely FREE! Click here to sign up, right now.