How to Trade October Volatility
The craziest month of the trading year is less than 24 hours away…
October is typically viewed as an investor's worst nightmare. After all, fall is crash season. Open your history books and you'll find plenty of horrifying drops ranging from the 1929 crash that sparked the Great Depression (Oct. 28-29) to the infamous Black Monday crash in 1987 (Oct. 19).
Yes, October can be volatile. But it's far from terrifying. In fact, in more recent history, October has been pretty good to investors…
"Dating back to 1950, October has only been the seventh strongest month of twelve. In recent years this has changed and moved towards a much more bullish bias," explains technical analyst Chad Gassaway. "Since both 1990 and 2000, October has been the third strongest month and has averaged returns of 1.48% and 1.27% respectively. Moreover, win rates have averaged 66.67% and 64.29% over these time periods."
See? Not so terrible. In fact, you might even squeeze a buck or two out of the markets during the fourth quarter if you keep your head on straight…
Meanwhile, the S&P 500 continues to flirt with 2,000. We enjoyed our very first close above this magical round number in late August. But since then, the market has traded through a bit of a chop-fest.
Back in August, I reminded you that it's been 16 years since the S&P hit a round number as gaudy as 2,000. Back in 1998, it actually took quite a bit of work for the S&P to make the leap above 1,000.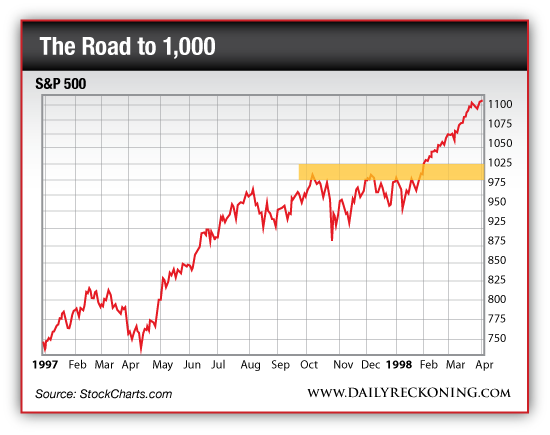 It took three months (and a couple of sharp pullbacks) for the market to finally get over the hump. But once 1,000 fell, it ignited a huge rally leading to double-digit gains in just two months. Right now, we're seeing similar choppy action that characterized the 1,000 breakout 16 years ago. Sharp pullbacks, divergences, and crash worries are dominating market discussions.
Yet here's where we stand today: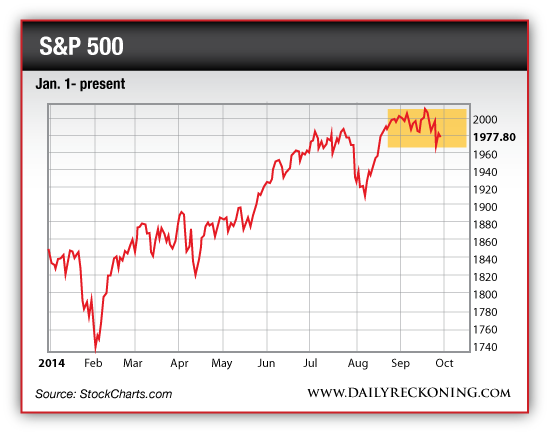 While market conditions are far from perfect, the S&P 500 remains within striking distance of 2,000 and its all-time highs. Don't get too caught up in the chop or the volatility fears. Just let the market run its course. If the S&P continues to consolidate near 2,000, we could be in for a major fourth-quarter rally if and when shares finally break out…
Regards,
Greg Guenthner
for The Daily Reckoning
P.S. Don't be scared of October. As the month progresses there will be several trends you can follow that could help you make a ton of money. I'll be detailing most of them in my Rude Awakening e-letter. Click here to sign up for FREE, and never miss another great profit opportunity.