One Metal to Watch in the Current Commodity Crash
A freefalling commodities market is quickly becoming the biggest disaster of the season.
You've seen the commodity carnage firsthand. For weeks, I've shown you piles of red candlesticks as wheat, corn, soybeans, precious and not-so-precious metals, oil, and gas have plummeted toward new lows.
Now, the floodgates are open. Crude fell off its chair yesterday afternoon, dropping more than 3% in only an hour. The swift plunge squashed oil's weeklong relief rally, wiping out all of its gains before the close of business.
Oil isn't the only casualty. Any attempt at a relief rally in the grains has been sufficiently snuffed out, too. Corn, wheat, and soybeans were each down about 1% yesterday. Of course, that red glow on your screen when you pull up the grains is nothing new. Back in July, I showed you how grains were rolling over. Every single one of them were down double-digits in just a few months.
The waterfall action in the DB Commodities Tracking Index Fund is impossible to miss. After hitting fresh lows yesterday, it's down nearly 10% on the year — and nearly 13% from its peak three months ago.
But the biggest loser this week is silver. I wrote just a few weeks ago that if you saw silver get close to the $18 breakdown area, it could be headed for trouble. And that's exactly what's happened. Silver cracked $18 a little over a week ago — and it has steadily trended lower ever since…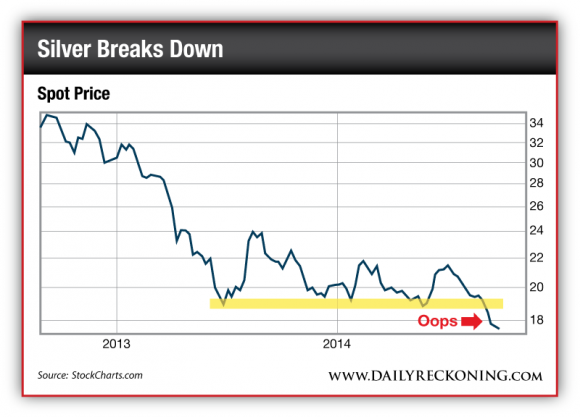 Yesterday, the drop accelerated. Silver smashed through $17, closing at $16.97. That's good enough for a 2.8% loss — and the lowest spot price recorded since early 2010.
So, can silver dig itself into a deeper hole from here? Absolutely. But you'll probably see violent counter-trend rallies as it continues to tumble. And as much as I despise longer-term predictions, I can see silver possibly cracking below $14 over then next 18 months or so. Sure, it won't drop straight down. But there's no doubt it's in a nasty bear market right now.
Regards,
Greg Guenthner
for The Daily Reckoning
P.S. If you sold on the breakdown below $18 like we suggested (or bet against silver in any way), the big flush we're seeing this week is your chance to cash out. There will be plenty of other chances for you to play both sides of this trade. To learn about each of them as they come, sign up for my Rude Awakening e-letter, for FREE, right here.