How to Pick Up Gains in a Falling Market
The fourth quarter is when you can make your hay.
It's no secret that the last three months of the year are huge for traders — and investors, for that matter. October is the gateway to the best performing months of the year.
But you probably already noticed that October didn't exactly start off on the right foot…
Yesterday's action was, in a word, "ugly". Stocks hurtled lower virtually the entire day. The Dow finished down more than 200 points. The Nasdaq dipped nearly 1.5%. Almost everyone — and everything — had a bad day.
So what's up with the market's terrible performance?
Is Ebola to blame? Or the protests in Hong Kong?
I don't think so. In fact, the real story has been unfolding behind the scenes for weeks now…
The market has been suffering through a stealth correction. That's why I continue to bring up the "tale of two markets". It points to some troubling action bubbling under the major averages. Take small-caps, for instance. The Russell 2000 has been diverging from its large-cap cousins for months. Now, mid-cap stocks are starting to crack.
What this means is that right now, fewer and fewer stocks are propping up the market. The major averages have remained relatively stable thanks to a few strong large-cap names. But when you take a second look, you'll notice that most stocks have already pulled back. You can see this phenomenon when you look at the percentage of stocks in the S&P 500 that are currently trading above their respective 50-day moving averages.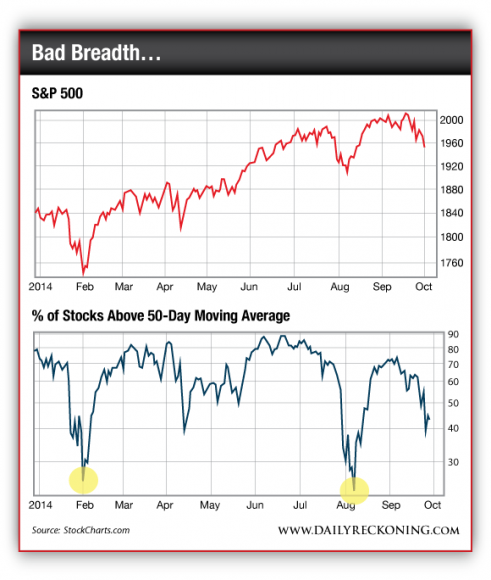 As you can see, a majority of stocks have already sunk below their 50-day moving averages. While not as many are in correction mode as we saw back in August or February, it's getting closer this morning…
Now, you probably get sick and tired of hearing this from me — but I don't care. I have to remind you that despite the divergences, bad breadth, and other not-so-bullish data we're getting from the market, no clear-cut "sell-everything-and-run" signal is flashing just yet. We've seen plenty of furious rallies after big pullbacks throughout the course of this bull market. To bet against it now isn't the best idea in the world…
Regards
Greg Guenthner
for The Daily Reckoning
Ed. Note: The market may be tough to navigate right now, but don't worry… there are still places to invest. You just need to be smart, patient and most of all… selective. That's where the Rude Awakening can help… In just 30 seconds, you could be on your way to discovering real, actionable ways to profit in any market. Each day, right around the opening bell, The Rude Awakening sends you a quick and dirty rundown of the trading day ahead — including what trends to watch, 5 numbers to be aware of, and at least 3 chances to discover real, actionable stock picks. Don't miss another issue. Click here now to sign up for The Rude Awakening for FREE.