The Key to Profiting from Green Energy
Here's a quick quiz: What U.S. industry has grown its installed base by more than 418% since 2010?
What industry expanded 100% globally last year and is now employing over 2 million people?
I'll give you one guess, and here's a hint:
It's an industry with a future as bright as its power source: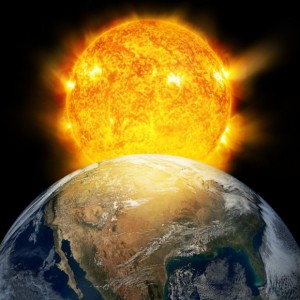 According to Scientific American, only two-billionths of the sun's energy strikes the earth, but 40 minutes of exposure to that solar energy is enough to power all human society for an entire year.
The answer is the solar energy industry.
What's been powering this solar-powered juggernaut?
Many things:
We need more energy, due to population growth
Billions of people rising into the global middle class also means rising demand for energy
Environmental concerns over the impact of hydrocarbon fuels
Governments around the world — including here in the U.S. — have provided considerable incentives for shifting toward "green" energy sources.
Solar power is the fastest-growing part of the energy mix.
Furthermore, solar has been following a "Moore's law" of its own.
Sharply falling prices are bringing the cost of electricity derived from solar energy into parity with traditional energy sources.
If the trend continues, solar will actually become a cheaper energy source, without taking into account negative external factors such as air pollution.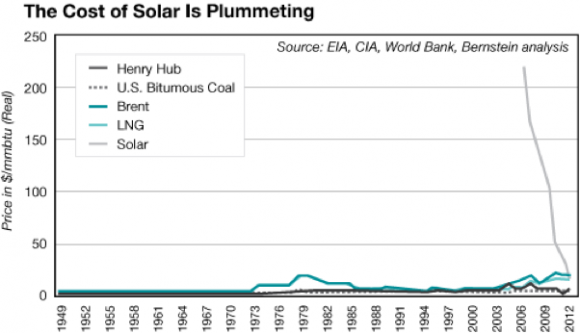 But air pollution is a big factor. Solar is very clean at the point of power generation, unlike hydrocarbon-burning plants.
We've all seen what coal-burning plants can do in places like China.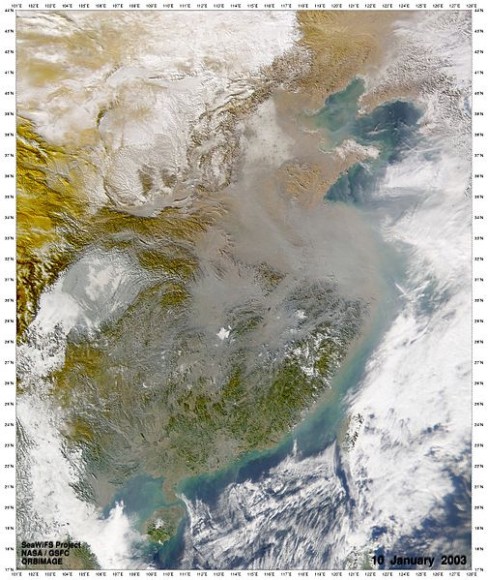 Emissions from coal plants can kill even when the smog isn't visible.
In 2010, the World Health Organization estimated that over 1 million urban deaths were attributable to outdoor air pollution.
The American Heart Association estimates that particulate air pollution causes some 60,000 deaths in the U.S. each year.
Did you know a coal-fired plant dumps more radioactive material into the environment than a nuclear-powered one?
Solar could help a great deal by replacing some of our dirtier energy sources, especially coal.
But solar suffers a big disadvantage compared with these common energy sources.
A coal or gas plant can run 24 hours a day, 365 days a year. A solar plant, however, won't produce power when the sun isn't shining.
Furthermore, during peak production — when the sun is shining brightest — solar might be putting out an unnecessary surplus of electricity.
Since solar is an intermittent power source, other power sources have to be ready to pick up the slack as needed.
For solar power to truly be competitive, a way to store surplus energy is needed for those times when the sun isn't shining.
When a company finds a way to do that — and not only store energy from solar plants, but also create the possibility of transforming it for use as a clean transportation fuel… That's when this already disruptive energy technology will become even more transformational.
Regards,
Ray Blanco
for The Daily Reckoning
P.S. Not to be cagey, but there actually is a company that's discovered a way to more efficiently store surplus solar energy. And in today's issue of the Tomorrow in Review e-letter, I was happy to reveal the name of this company for its free subscribers. It's just a small benefit of being a Tomorrow in Review subscriber. If you'd like to get regular profit opportunities like this, click here now to sign up for FREE.