How Investor Fears Will Move the Market in October
Traders are freaking out…
All last week, stocks continued to slip. The market looked like it was falling apart at the seams, and many traders and investors were bracing for a nasty correction as we entered one of the most feared months of the year.
The only question investors wanted answered was how low will prices go from here?
Of course, plenty of spooked traders punched the "sell" button early last week. Frankly, I don't blame them. It's easy to get caught up in the hysteria when prices begin to tank. However, as the trading week was drawing to a close, it was becoming clear that we were approaching an emotional extreme — one that might even set up a buying opportunity.
"People are panicking," exclaimed Jonas Elmerraji over at our trading desk. "CNN Money's Fear and Greed Index went down as far as 3 out of 100, signaling Extreme Fear among market participants. That extreme emotion was missing on the last S&P 500 bounce, and I think it's part of the reason that the move fizzled out early."
But so far this time around, the bounce we experienced Friday looks strong…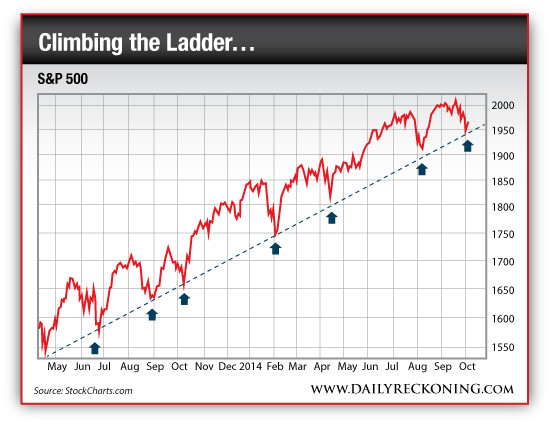 "The chart shows what the S&P 500 has been up to for the last year and a half," Jonas explains. "As you can see, the big drop in September doesn't look so big and scary after all. We've done the same thing eight times now since last summer. And there are a couple of factors that make last week's bounce off of support look especially good."
For one, Jonas says he likes how price briefly dipped below support in the morning — which in turn attracted tons of buyers that pushed the big index higher into the afternoon.
"Another important characteristic of Friday's bounce is that it was big," Jonas says. "Looking back over the last couple of years, successful tests of support have typically been followed by around a 1% move higher in the S&P. The big index popped 1.12% on Friday."
If stocks can continue higher early this week, you should use the opportunity to buy shares of your favorite names for a bounce…
Regards,
Greg Guenthner
for The Daily Reckoning
P.S. To get a more in-depth look at how to make serious gains in this and any market, sign up for my FREE Rude Awakening e-letter. Once inside, you'll get a daily rundown of the trading day ahead, including 5 important numbers to watch and no less than 3 specific chances to discover real, actionable stock recommendations. Don't miss your chance to profit. Click here now to sign up for FREE.