Why One Long-Time Losing Trade is Making a Comeback
For months, the worst thing you could possibly do was short stocks. Betting against stocks has been the quickest way to lose money (and lots of it) during this leg of the bull run.
Face it — short plays just didn't work. Investors and traders aggressively bought every dip that dared to show its face — no matter how small. And the stocks that were popular targets of short sellers always seemed to find their footing and rip higher, causing more shorts to cover their positions and therefore extending their respective rallies…
But the past few weeks have been different. Yes, yesterday's big push lower rippled throughout the market. However, the stocks with the most short interest are the ones suffering the most right now.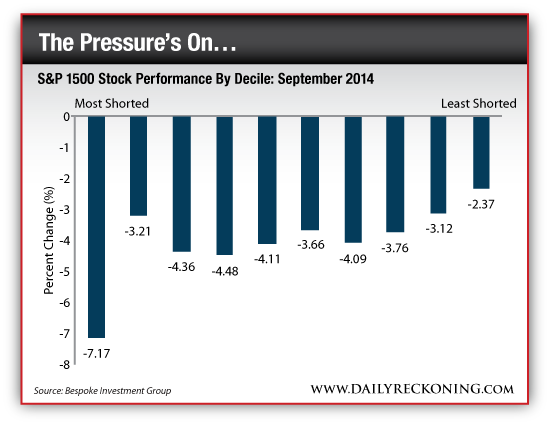 "A couple of weeks ago, we referred to the weakness in the most heavily shorted stocks as being like shooting fish in a barrel," comments Bespoke Investment Group. "At this rate, it's more like shooting fish in a can of sardines."
According to Bespoke, the average performance of S&P stocks that had more than 25% of their free-floating shares sold short as of mid-September is a decline of more than 16%.
"The average for the most heavily shorted stocks looks more like something we would have seen during the financial crisis, not a period where the market saw just a minor sell-off," Bespoke notes.
That's a huge change of character in the markets. And after yesterday's big push lower, it looks like these numbers are getting even worse. I count more than 200 stocks trading on major U.S. exchanges with at least 20% of their float sold short. Of these stocks, eight dropped double digits Tuesday. Fewer than 20 were green on the day. The stocks on this list span a variety of sizes and industries — yet all of them are taking a huge hit.
Yesterday, I told you about the GT Advanced Technologies (NASDAQ:GTAT) bankruptcy and how it could affect former momentum leaders. Well, GTAT is also one of those heavily shorted names on the list. Not only could its demise spark additional selling in the momentum names — it could also continue to instill confidence in the short sellers.
In these market conditions, you have to stay away from these vulnerable stocks with high short interest. If the major averages push lower from here, these are going to be the names that suffer the most….
Regards,
Greg Guenthner
for The Daily Reckoning
P.S. The markets are tougher to navigate than usual these days. Let me give you a hand… Click here now to sign up for my Rude Awakening e-letter, completely FREE, and I'll send you important updates on how to make the most out of any market. In every single issue, you'll get a quick rundown of the markets, which trends you need to be following and 5 important numbers to watch throughout the trading day. It's the simplest thing you can do to get a quick leg-up in the markets. Don't miss another issue. Click here now to sign up for FREE.