How to Spot a Price Floor in a Downward Market
When the markets correct, some groups of stocks are hit harder than others.
This time around, the energy sector is taking the most punishment.
With the major averages all off by about 2% yesterday, you can feel a little panic in the fall air. But when it comes to energy stocks, the downtrend actually began over the summer. Since late June, energy stocks have slowly retreated. This previously red-hot sector overheated after a furious rally — and has fallen way behind the rest of the market. That's the number one reason I've been avoiding most energy trades for the past several months…
However, we did attempt to play an oversold bounce in energy names just a couple of short weeks ago as these stocks surged off their lows on heavy volume. For the Energy Select Sector SPDR (NYSE:XLE) trade, $92 was the critical price above its 200-day moving average. This price was also right next to horizontal support that formed back in May when energy names were consolidating for their big run higher in early June.
"June's surge was unsustainable," I wrote in late September. "By the end of the month, most energy stocks were extremely overbought by almost every metric you can imagine. These stocks needed a hard reset — and that's exactly what they received over the next three months."
But we saw no follow-through after the initial bounce. The move failed, the trade triggered a sell and energy stocks continued their brutal journey lower…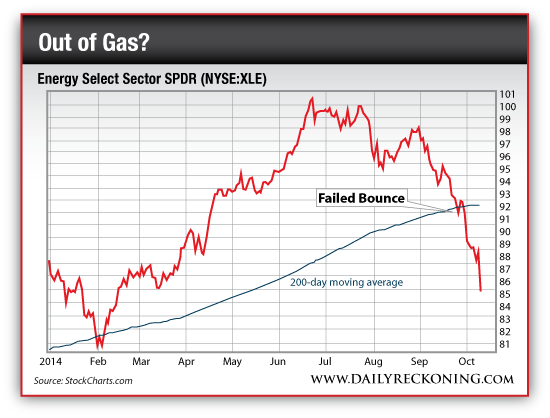 After yesterday's swoon, XLE is negative on the year. Oil services stocks are looking even worse (as a group, they're down more than 6% year-to-date). All of these oil and energy-related stocks might look like tempting oversold trades. And trust me, some of them are massively oversold. But I don't think you should try to catch these falling knives right now. If you do, you might get your hands chopped off…
Crude prices are also tumbling. In fact, oil just shot below $85 early this morning — so we'll have to see if this provides any sort of near-term support for prices…
"$85 is a huge psychological point for oil prices," explains Matt Insley over at our trading desk. "It's funny, you'd think I'd hear a lot more about $90 oil than $85 oil, but from my experience, $85 seems to be the oft-used baseline price for crude."
So there you have it. Steer clear of energy names until they find a floor. And stay vigilant today. It looks like the market is primed for a push lower into the weekend.
Regards,
Greg Guenthner
for The Daily Reckoning
P.S. For more in-depth analysis of what's going on in the markets — including several chances to discover real, actionable stock picks — sign up for my FREE Rude Awakening email, right here.