What to Do When Even "Safe Stocks" Become Unsafe
If you were looking for lower stock prices Friday, you got your wish…
The major averages leaked lower. The S&P coughed up another 1% drop, while the Nasdaq more than doubled the fun, cratering more than 2.3% on the day.
But once again, the big story wasn't the performance of the Dow or the Nasdaq. On Friday, individual market leaders were the stocks that took the biggest hits. That's right — if you owned any of the large-cap tech stocks that held up so well during last week's market swoon, you took a big hit Friday. Google Inc. (NASDAQ:GOOGL) dropped almost 3%. And Microsoft (NASDAQ:MSFT) gave back nearly 4%. That's just a small taste of some of the "safe stock carnage" investors endured over the course of just a few hours late last week.
Oh yeah, then there's the case of the S&P 500's broken uptrend…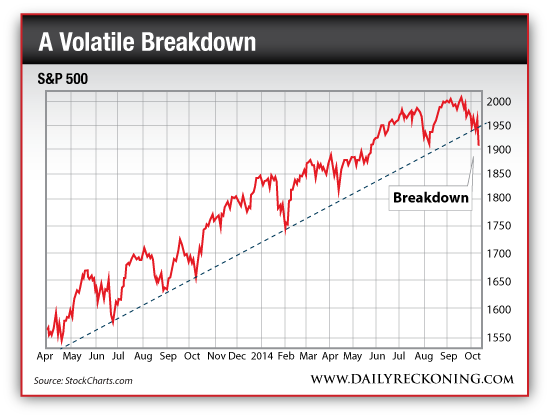 "Friday was the first time in two years that the S&P spent an entire trading session below that uptrending channel," Jonas Elmerraji reports from his trading desk. "No, the breakdown isn't exactly earth-shattering — all trend lines do break eventually — but the break does mean that the simple broad market framework that we've been using for the last couple of years doesn't work anymore."
That's right — it just got real. Those sharp rallies that made up the V-bottoms that characterized almost every market bounce for the past couple of years? We might not see one for a while…
If you're an investor with a long-term view of the markets, this recent dump shouldn't phase you. After all, the S&P 500 is just a little more than 5% off its highs. But if you're trading, you should have all of your defensive players on the field. That means you shouldn't make any big bets (long or short). And as always, keep your stops tight.
Regards,
Greg Guenthner
for The Daily Reckoning
P.S. The market's action early this week will be telling. If we see stocks continue to hemorrhage, it will be time to adjust our strategy and prepare for further downside action. Read my FREE Rude Awakening email edition for more info — including several chances to discover real, actionable stock picks that could help you turn a nice profit in any kind of market.