How to Survive a Train-Wreck Market
Our three days of market torture aren't over just yet…
You need to come out from under your desk for just a minute so we can assess the damage. After yesterday's afternoon rout, stocks are sitting on their worst 3-day loss in nearly three years. And for the first time since 2012, the S&P 500 closed below its 200-day moving average.
After months of smooth-sailing, the market is throwing wrenches in your gears. Energy stocks — particularly oil services and exploration & production names — are in full-on crash mode. The price action look like something out of 2008. For the sake of your sanity, I won't even attempt to publish any of these charts today.
But don't worry, there are plenty of other beat stocks to talk about.
Take growth names, for example. Remember those new, exciting stocks everyone loved earlier this year? This week, many are beginning to break down. Take a look: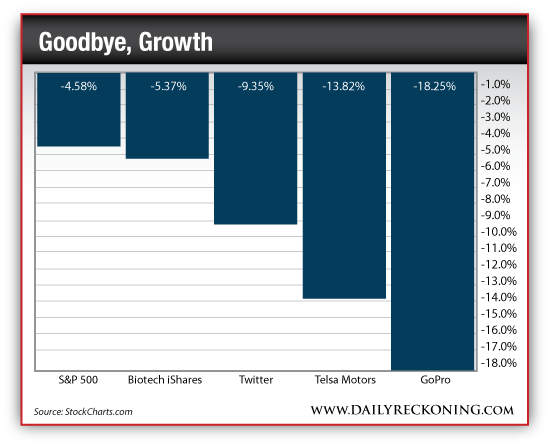 Biotechs are down more than 5% over the past week. Twitter is down nearly double-digits. Tesla, once Wall Street's favorite growth name, has taken a 14% haircut. And the extreme IPO all-star GoPro is leading them all lower with a one-week drop of more than 18%.
All of this terrifying price action has prompted some pundits to call for a 1987-esque market crash
"We would put the probability of a repeat of a 1987-type event as very low," notes Urban Carmel of UBS Securities. "However, as we have said before, sentiment is eerily similar. These are the only two periods in the past 30 years where investment advisors have been so stubbornly bullish… What is concerning is that large cap US stocks have been falling for 3 weeks, small cap stocks for 3 months and the Dow is now negative for 2014, yet investors are not bearish."
Urban points to the bull:bear ratio for proof. Despite the fact that the number of bears did increase this week, he notes that the number of bulls remains noticeably higher than we should expect given the current market conditions.
"We would have expected these to show increasing signs of worry," Urban concludes. "They haven't."
I don't know if we're in store for a sudden push lower this week or not. But it does feel like many traders have become so conditioned to "buying the dip" that everyone is just waiting to scoop up shares instead of getting defensive.
Yesterday's price action toward the close looked awful. If it continues, a meaningful bounce could be a long ways off…
Greg Guenthner
for The Daily Reckoning
P.S. There are always safe places for you to grow your wealth in the event of a prolonged downturn. You just need to know where to look. Allow me to offer you some guidance. Click here now to sign up for my FREE Rude Awakening e-letter, and each morning — right around the opening bell — I'll give you my full rundown of the trading day ahead. Inside each issue, you'll discover the most crucial trends of the day, 5 important numbers to watch, and 3 chances to discover real, actionable stock picks. All completely FREE of charge. Don't wait. Click here to sign up right now.