How to Navigate the Worst Sell-off of All Time
Crude Awakening? Crude-pocalypse? Crude-mageddon?
Let's just say that I haven't experienced a nasty crash like we're seeing right now in oil in a very, very long time.
Oil prices are dropping so fast, in fact, that I can't even keep up. I'm sure that by the time you see this chart (which we made just a few minutes ago) crude will have tumbled another $1…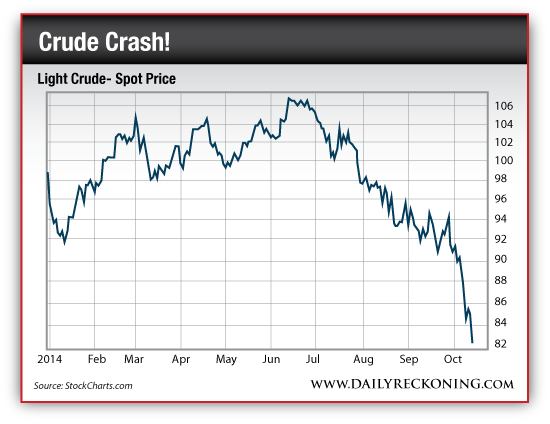 Right now, light crude is taking the express elevator toward $80 — and it doesn't look like there's much that can stop it. And it's not just the West Texas stuff that's getting mauled. As Zero Hedge pointed out yesterday, a weekly momentum gauge shows that the sell-off in Brent is now the worst ever. That's remarkable…
Here's the thing about hitting these oversold extremes: Oversold doesn't mean it's time to buy. In fact, a strong oversold reading can actually signal the beginnings of a major push lower. Yes, we will probably see huge snapback rallies in oil and related stocks. But these bounces will likely be short-lived.
Let's turn to our energy desk and Matt Insley for some more insight into this crash…
"Maybe China left the building? Maybe the Saudis finally went on the offensive? Whatever the case, the market is tasting sour crude on its lips," Matt says. "In a sense, we really are seeing the perfect storm in the crude market. Remember, unlike some less-reactive markets, crude oil is highly impacted by supply and demand. To that extent we're seeing WAY MORE supply, with U.S. shale production and OPEC opening the spigots. At the same time we're seeing WAY LESS demand in the form of lower expectations from the Eurozone to Asia."
Add it all up, Matt concludes, and crude prices are under pressure… big-time.
For days, Matt's been waiting for a "big" move in crude oil. Well, yesterday we got a taste of a near-$5 drop in crude prices. That's probably not the end of the carnage just yet. If history is any guide, we'll need to see a big capitulation downside move before prices regroup.
Regards,
Greg Guenthner
for The Daily Reckoning
P.S. The current US oil boom is a big reason why crude oil prices are dropping so sharply. And even if that means bad things for oil prices, it means very good things for savvy investors who know which companies are set to profit. There's still plenty of money left to be made in this space… if you know where to look. I'll be giving my Rude Awakening readers access to exclusive opportunities to help them discover just that. Click here to sign up for The Rude Awakening, for FREE, right now.