A "Silent Buy" Signal in One Unloved Market Sector
It's a great day to be an investor. Or not…
Economic data flat-out sucks. Producer prices, retail sales, and the New York Fed's Empire manufacturing report all missed estimates yesterday. World markets are in the garbage disposal just waiting for someone to flick the switch. ISIS is taking over the Middle East. And if the terrorists hiding in your closet don't get you, Ebola will…
Add it all up, and you get a tremendous flush. The S&P 500 was down nearly 3% at one point on Wednesday, marking its worst losses in nearly 3 years. Traders are flat-out panicking. Every talking head on the news is screaming for you to sell your family and hide in the woods. And volatility is chopping up everything in sight.
Sure, stocks almost climbed out of the hole they dug yesterday afternoon. But this morning's action is more of the same. Futures are in the gutter. Every single Dow stock is red. The October curse is apparently alive and well…
But here's what they're not telling you: There are a couple of key signals flashing right now indicating this nasty dip could be closer to a bottom than a mega-crash. And while it might not be time to buy with both hands, you could have a shot to buy one-handed and bring home some serious bottom-fishing gains.
It all comes down to small-caps, the most hated group of stocks on the market this year.
This week, we're beginning to see a change of character in the small stocks. The Russell 2000 small-cap index is actually higher on the week — while larger stocks continue to bleed out. That's huge. Remember, these stocks have been tanking all year. At the start of the week, the Russell was down nearly 10% year-to-date, compared to about a 2% in the S&P.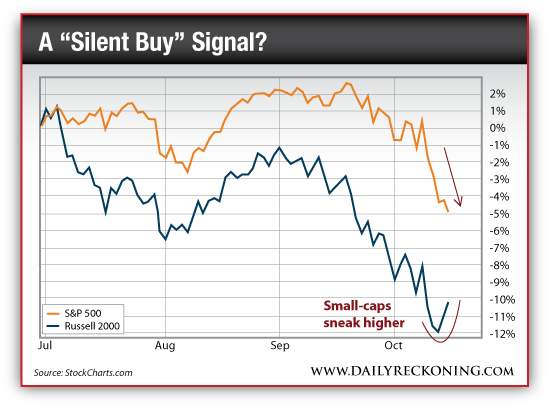 As I said earlier, it's not time to buy with both hands. This market is just dying to slaughter some pigs — and you'll be one if you jam both hands in the trough this morning. But if we continue to see small-caps attempt to put in a bottom, that could be your signal to grab a few shares for a snap-back trade.
Regards,
Greg Guenthner
for The Daily Reckoning
P.S. It will take guts to try to play this potential move. But if you close your eyes and buy at the right moment, your wallet will thank you. And that's where I can help… Sign up for my FREE Rude Awakening e-letter, and I'll share with you my in-depth market analysis every single trading day. Inside every issue, you'll learn about the most profitable trends to follow, 5 specific numbers to watch and at least 3 chances to discover real, actionable stock picks. So what are you waiting for? Click here to sign up for FREE, right now, and start learning how to safely beat the market.