How to Poke the Russian Bear in 3 Easy Steps
I see you're interested in buying the dip in Russian stocks this morning.
But before you do, let me try to knock some sense into that skull of yours…
Late last week, I reminded you why we bid farewell to the big Russian bear back over the summer. At the time, Russia was one of the cheapest markets in the world. But cheap can always get even cheaper—and Russia is certainly no exception. With comic book supervillain Vlad Putin manning the controls from his secret Siberian lair, the Market Vectors Russia ETF (NYSE:RSX) has dropped a cold 20% since registering its late June highs.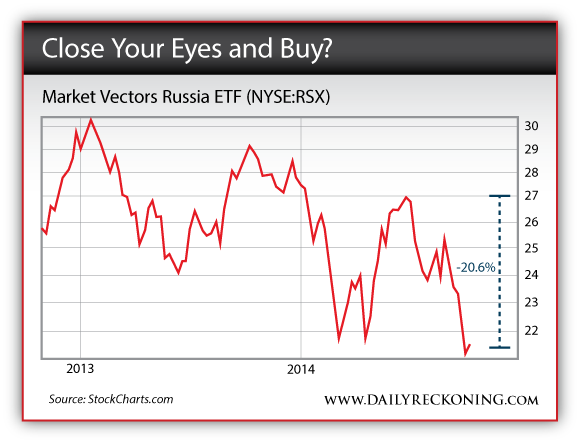 So you're still looking to take a shot at Russian stocks?
Why? Because of a rapidly-plummeting ruble? Or the chance that these beaten-down names just might be finished with their largest declines?
Perhaps this reader can enlighten me…
"RSX is a very good choice for current purchase," insists a value-minded reader.  "It dipped below $21 [late last week].  It may not be the top-performing market over the next year, but it will likely gain more than most others, and because it's so strongly disliked it has very little additional potential downside.  Therefore, it's a good choice even for relatively conservative investors.  RSX has also formed several higher lows in 2014 which is a common precursor to a more extended uptrend. The very powerful media negativity toward Russia is serving as a strong confirming buy signal."
OK… where to begin?
First of all, I'm not seeing those higher lows you're talking about. In fact, RSX appears to be trading right near its year-to-date lows as I type. And as you already know, I also like to see strong negative sentiment when it comes to a potential turnaround trade. While that's a point in your favor, negative sentiment alone isn't a flawless "buy" signal.
Ideally, I'd like this nasty-looking chart to bottom out a little more before scooping up shares. However, if you really want to take a stab at an ultra-cheap market like Russia, here are the three steps you need to take:
Buy a small position. And by small, I mean small enough so you won't miss the money. Don't mortgage your house here…
Don't look at RSX. At all. Buy your shares and close your eyes. Turn off any price alerts. Consider throwing your TV out the window—or maybe just block the major news networks
Wait 5 years. Put your chips on the table and let 'em ride. Sixty months later, you could have yourself some serious profits…
If you can stick to this strategy, you have a shot at walking away from a Russian value trade without blowing up your brokerage account.
Regards,
Greg Guenthner
for The Daily Reckoning
P.S. Sign up for the Rude Awakening for FREE today to see how you can trade these trends for huge gains…