Housing Bulls Gave Up Here… Big Mistake
Another one of Wall Street's broken forecasts has plopped a new trade in your lap…
If you're listening to the lunatics on the financial news, you're hearing that there's no hope for the markets. Just get rid of your stocks and pound sand. Better safe than sorry—none of these talking heads want to get bullish on anything right now because they're afraid to look like an idiot if the market keeps dropping. For them, selling stocks now is your only chance to make it to the end of the year without pawning the family cat to buy Christmas presents.
But the truth is, you've been spoiled. Spoiled by a market that just wouldn't go down—where every dip was enthusiastically bought by investors far and wide. But now that a little volatility has juiced the averages, traders are crying every time they check their account balances.
Let them. While the over-leveraged pout over spilled gains, this correction has uncovered some very compelling bargains. In fact, one of these trades is sitting right under your nose this morning. It's so obvious—but no one's watching it.
I'm talking about homebuilders. While the market has churned higher this year, the homies have dropped as much as 15%. Investors left this group of stocks for dead months ago. Why? They figured rising rates would squash any chance the housing market had for growth this year.
But, of course, the analyst predicting higher rates were dead wrong. Mortgage rates dropped below 4% once again—just in time for the lemmings to sell the last of their homebuilder stocks.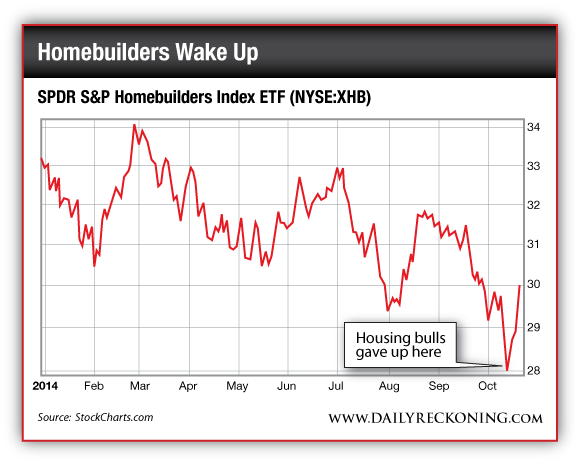 As usual, the herd panicked right at the bottom.
The SPDR S&P Homebuilders Index ETF (NYSE:XHB) is now up 7% over the past four trading days. And while that's a huge move, I think it's only the beginning of a much bigger comeback. So while most investors are asleep at the wheel, you have a chance to get in right near the bottom as this new trend develops.
There are a couple of important housing reports hitting the wire this week. Existing home sales will go out this morning, followed by new home sales on Friday. Ignore them. This backward-looking data shouldn't affect our trade. It's all just noise, anyway. Let the rest of the investing world confuse themselves with the financial media reports about consensus sales estimates. While they're trying to figure out why home sales are a point or two off in either direction, price is telling us that a major change is brewing for these stocks…
XHB is a great way to play this emerging trend. In fact, I think it could be one of the best performing groups on the market heading into the last two trading months of the year.
Regards,
Greg Guenthner
for Seven Figure Publishing
PS: Sign up for the Rude Awakening for FREE today to see how you can trade these trends for huge gains…