McDisaster: Fast Food Is Dying – Make a Killing From It…
Excuse me sir, would you like to super-size that crash?
McDonalds stock is getting crushed right now. Shares have been in a tailspin since June. But it's not just Mickey Dee's. Coca Cola shares are in freefall, too.
Bad news for them. But if you want to rake in a pile of easy money, it could be great news for you. Here's why…
See, Americans just aren't choking down this junk like they used to. The fast food burger, fries and a Coke are just down payments on an early coronary – and Type II diabetes. And everyone's finally gotten the message. In a recent Consumer Reports survey, McDonalds ranked dead last in food quality, value, and service. Consumers are looking for healthier alternatives, and there's a growing demand for "green" organic and hormone-free foods.
Just look at shares of McDonalds Corp. (NYSE:MCD). It's down nearly 4% on the year. Only yesterday, the fast food giant reported 30% drop in its third-quarter earnings. Management cites challenges in the biz that are "more formidable than expected."
Gee, I wonder if the captain of the Titanic used that phrase to describe the threat of icebergs after he slammed into one…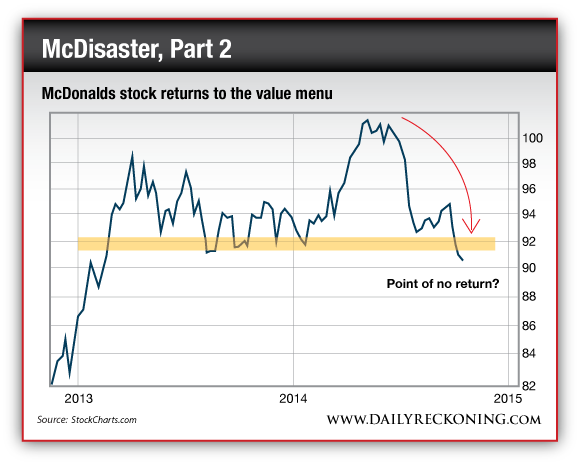 Whatever McDonald's excuses are for laying an egg this earnings season, one fact is undeniable: Unhealthy, traditional food offerings are on their way out the door. And anyone owning shares of the junk-peddlers will suffer in the long-term. The stock is already breaking down to new lows on the year. It's only a matter of time before shares find themselves locked in an even nastier downtrend.
Still don't believe me? Check out Coca Cola Co. (NYSE:KO). The Big Mac's best friend is coming off its sugar high and spiraling lower. After posting disappointing earnings and a cruddy full-year outlook, Coke shares took their worst one-day hit since October 2008.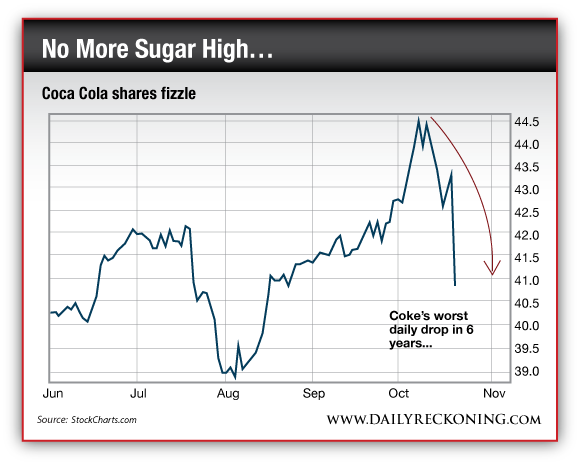 Both McDonalds and Coca Cola are in big trouble. And these are Dow stocks we're talking about! Investors are looking to these names for safety. But they're getting nothing but losses.
Here's the truth that many investors can't admit: There's no growth in junk food anymore. Consumers' habits are changing. They're gluten free, low-carb, no-carb, organic and environmentally aware. I really don't care if you think these are the attitudes of tree-huggers and hippies —I'm just telling you what's happening in the market.
Companies are realizing they need to shift focus to healthier options — or lose market share.
So put that burger down and sell these bloated "junk" stocks now.
Regards,
Greg Guenthner
for The Daily Reckoning
P.S. Looking for an alternative to the fast food stocks? Sign up for the Rude Awakening for FREE today to see how you can trade this trend for huge gains…