Why Biotech Stocks are Screaming "Buy Me" Right Now
That bright neon sign you're looking at are biotech stocks flashing, "Buy me!"
So put down your morning joe. Go ahead, do it. And ignore all incoming e-mail for the next few minutes. Because the biotech breakout has arrived — and it can make you a bundle over the next few months.
That's right. Forget about this month's stock roller-coaster ride. Yeah, sure, it was painful for some. But it's time to hop aboard biotech…
I can see you there right now, arms crossed, getting up in my grill: 'Oh, yeah, Guenthner? I just lost a bunch of dough on stocks. You think my wife's gonna let me buy biotech now?'
I get it, man. Really, I do. But seriously, hear me out…
This is all you need to know: biotech stocks are on a tear right now. They've shot up a staggering 12% since October 15th. That's an insane move in such a short time. And they've got all kinds of room to run. In fact, with many important names hitting new highs right now, biotech could be the best performing sector on the market for the rest of 2014.
Truth is, most investors are still tucked in the fetal position after all the recent market chaos, begging for mommy. CNN Money's "Fear & Greed Index" is still stuck in extreme fear territory. No one's thinking about backing up the truck right now. That's why this is the perfect time to strike. Why? Because no one makes money begging for mommy. No one.
And as I'm about to show you, the surge in biotech has nothing to do with the Ebola scare. This breakout won't fizzle when the Ebola breakout does. Bottom line: if you want to rake in serious gains this quarter — and beyond — the biotech comeback is the way to go.
Let's take a step back and look at what happened with biotech earlier this year. It's important for us today…
At the very beginning of 2014, biotechs went on a tear. The sector posted 30%-plus gains during the first eight weeks of the year. Every other day, a different biotech would easily rise double-digits. And while this was an active trader's paradise, these stocks got a little too big for their britches. Too much… and too quick.
Sure enough, in March and April, they got hammered. But we noticed the glint of some shiny bright nuggets among the ruins. We even pinpointed the strong gust that let you ride the biotech thermals toward new highs in early June.
And wouldn't you know it…just a few weeks after we alerted you to the biotech comeback, these stocks returned to winning territory. Since we first highlighted the June comeback, the Biotech iShares have risen an impressive 17%. (No, I don't have a crystal ball, even though it seems like it sometimes).
And during the summer doldrums — usually the weakest time of the year — biotech shares easily beat the major averages. The summer bounce boosted the biotech sector to gains of more than 12% on the year. And that includes the major spring pullback. Biotech stocks beat the pants off the S&P 500 over that period, which gained just 5.5%.
And today…
The biotech sector might be the strongest tailwind pushing the stock market higher. Like I said, biotech stocks overall have risen a staggering 12% since October 15th. In fact, these stocks are breaking out just like they did back in early June when they went on their double-digit run. Take a look…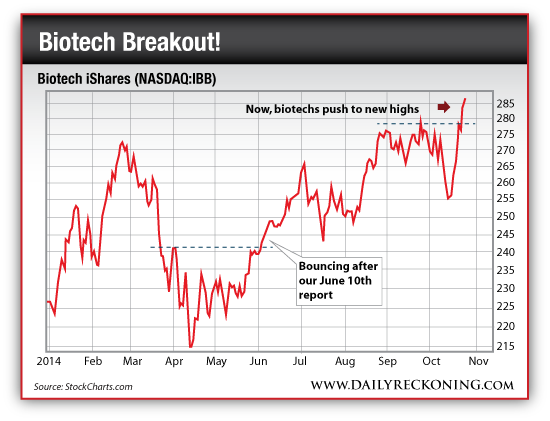 Even more importantly, this biotech comeback is NOT all about the Ebola scare. Obviously, stocks related to the Ebola outbreak have been especially volatile over the past couple of weeks, as the virus has planted its flag on American soil.
No, the biotech stocks attracting the smart money right now are the big boys. These are the household names such as Amgen, Gilead Sciences, and Celgene that are driving the train here. These biotech flagships are buys today as the entire sector continues to break out to new highs. Expect to hold them for a few months or more. Then count your money.
Regards,
Greg Guenthner
for The Daily Reckoning
P.S. As the big name biotech stocks continue to drive this sector, a handful of smaller biotech companies will also benefit… a rising tide lifts all boats, as they say. But will you know which ones? I have a colleague who can answer that for you… and that could mean huge windfall profits for you and your portfolio. I regularly give my Rude Awakening readers a chance to discover this research for themselves. If you'd like to secure your shot at it, your best bet is sign up for The Rude Awakening, for FREE, right here.