The Secret Oil Price Rally No One's Talking About
Oil is now as abundant as oxygen.
The world is drowning in the stuff. Oil supplies are far outstripping demand. And unloading a barrel of crude is like trying to sell sand in the Sahara.
OK, so I made all that up…
But that's exactly what Goldman Sachs wants you to believe.
The evil geniuses at Goldman Sachs just released a report predicting crude will plummet to $70 by next spring. The new target price is a full $15 lower than Goldman's previous guess from last quarter. Could the Masters of the Investment Universe have made a mistake?
After the smart money cashes out of its bets against oil, it usually triggers a massive rally.
Goldman says the U.S. shale oil boom has now juiced supplies to the point that we have way too much oil sloshing around. Their report trumpets the fact that the U.S. will pump more crude than Saudi Arabia this month… for the first time in over 40 years! And of course, there's more where that came from.
So it's time to dump all your oil stocks. The oil price is heading to the cellar. After all, Goldman said so. And Goldman is like the pope of the financial world. Whatever it says is infallible. Right?
I'm sure you know a leading question when you see one. And you're right…
There may be a far more sinister motive behind Goldman's $70 oil price prediction. (Shocking, I know).
So what's the deal? Here's what I think…
Goldman knew its report would go right into the financial news meat grinder. The dupes would scream that the "smart money" sees the oil price heading down even further than anticipated. Perfect — just in time for more investors to panic.
But if you bother to look at what the real smart money is doing — instead of chowing down on their prepackaged reports — you'll see that the big hedgers (some of them undoubtedly from Goldman Sachs) are actually taking profits on their oil shorts. That's right — while smart guys are telling you to get out, they're actually waiting to pounce. And as overzealous traders press their luck on the downside, the big boys are already aboard their private jets, counting their profits…
"Hedgers have already cut their net short position by a record 205,000 contracts," explains Dana Lyons, partner at J. Lyons Fund Management, Inc.
Lyons goes on to explain that there have been just five other occasions where hedgers have covered short positions as big as this one…
"Those dates were in December 1997, September 2003, November 2008, October 2011 and June 2012," Lyons explains. "The last four of those such occasions led to intermediate-term rallies in crude oil of roughly 105%, 150%, 50% and 30%, respectively. Only the 1997 instance did not lead to a rally."
See a pattern here? After the smart money cashes out of its bets against oil, it usually triggers a massive rally.
That's some pretty compelling evidence pointing to a bounce in the oil price sooner rather than later. Just yesterday morning, light crude again slipped below $80. But only for a few minutes. Before lunch, crude was back above $80…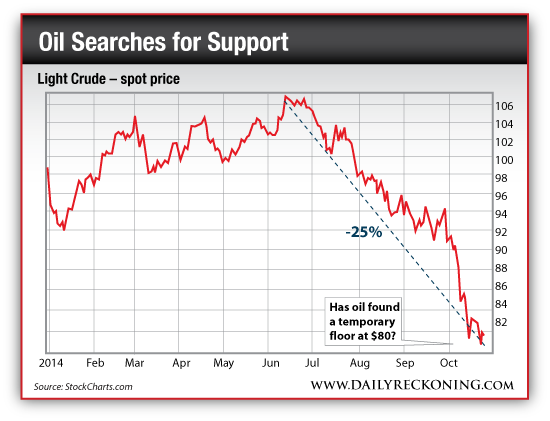 Bottom line: this crude crash needs a break. And if history is any indication, we could be in store for a surprise rally here as $80 holds. Even a run higher toward $85-$90 would be a strong enough bounce to pull up some sinking energy names from the gutter — and give you a shot at quick gains.
Now, I'm not going to sugar-coat it — buying oil stocks down here is a bit of a risk. You should set a tight stop on this trade idea — and you shouldn't bet the farm. Consider this a small, speculative bet on a counter-trend move. But don't let those bastards at Goldman profit from the oil price snapback without getting in on the action yourself!
Regards,
Greg Guenthner
for The Daily Reckoning
P.S. I continued this conversation in today's issue of The Rude Awakening e-letter. In addition to this potential bounce in the oil price, I gave readers one other important trend to follow, 5 specific numbers to watch, and 3 specific chances to discover real, actionable stock picks. All of that and more comes packed in every single issue of The Rude Awakening — all completely FREE. Click here now to sign up for FREE and you'll get regular updates, every trading day, right around the opening bell.