Amazon Is A Big, Fat "Sell" – Here's Why…
I'm calling it now — it's time to sell Amazon.
Here's the dirt: Amazon — the world's largest online retailer — managed to lose a stunning $437 million during the third quarter. Holy disappointing-earnings-report, Batman!
Let's face it – lately, Amazon has been all sizzle – and no steak.
Same-day drone delivery? Wake me up when you hear one buzzing above your house. Its new smartphone? A busted flush. More on that in a second…
If you own shares of the tech giant, it's time to bail before an attack drone takes out its stock.
And the largest contributor to their loss was the Fire Phone I just referenced, which burned a $170 million hole in Amazon's pocket.
You remember the Fire Phone, right? Probably not. That's because no one — and I mean no one — bought it. It was supposed to compete with Samsung's stable of gigantic smartphones and Apple's iPhone mega-hit. But the Fire Phone crashed into flames when it debuted this summer.
Somewhere in China… or maybe here in the good ole U.S. of A… there's a warehouse stuffed to the gills with $83 million worth of unsold Amazon Fire Phones. They can't give the damn things away.
At one point, Amazon even slashed the price of its Fire Phone from $199 to 99. No, no, not 99 dollars — 99 cents. That's a 99% discount! And now, this $83 million albatross around Jeff Bezos's neck is dragging down everyone's favorite online marketplace.
Take a gander at this chart. If you haven't dumped your Amazon stock — even after reading my pearls of wisdom — you'd better hope Amazon doesn't launch any new "initiatives" anytime soon.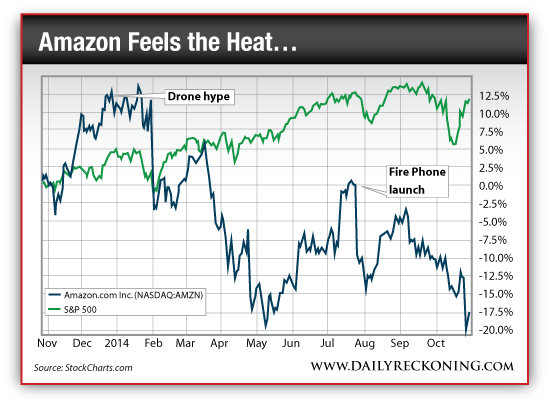 It's not just the Fire Phone pulling Amazon down. Face it — the company has other serious issues. Amazon over-hyped its ambitious drone delivery technology on 60 Minutes last year. Its delivery drones remain a fantasy — who knows when they'll ever deliver you a single package. This, after Amazon bought drone maker Kiva Systems for $775 million in 2012.
Add up these missteps and you've got some gnarly earnings reports. Amazon's third-quarter loss was a real eye-opener — a $437 million haircut. And let's just say Amazon brass isn't expecting shining fourth quarter numbers, either. They tipped off analysts last week that revenue would likely "disappoint" (that's corporate-speak for "Hold onto your hats!").
After peaking at $408 back on January 22nd, Amazon shares are down more than 25% on the year. Right now, one share of Amazon stock fetches less than 300 bucks — $295.59, to be exact. If investors continue to slap Amazon around, it could quickly drop to $260 before the bargain hunters show up. That's another 10% haircut. Meanwhile, the S&P 500 is now up nearly 7% on the year.
Bottom line: Amazon's a dog right now. Don't get caught stuck with this bowser heading into 2015. Because it could get even uglier.
Regards,
Greg Guenthner
for The Daily Reckoning
P.S. So… Now you know at least one big name to stay away from for the rest of the year. If you're interested in what I think is a "buy," click here and sign up for my FREE Rude Awakening e-letter. Every morning, right around the opening bell, I give my readers a quick and dirty rundown of the trading day ahead — including my favorite trends to follow, 5 important numbers to watch, and at least 3 chances to discover great stock picks with loads of profit potential. Click here to sign up for The Rude Awakening, for FREE, before you do anything else today.