How Solar Power Could Heat Up Your Portfolio
The fiery ball in the sky could mint you a fortune over the next 18 months…
That's because I expect solar stocks to double again over the next year-and a-half. And you'll look like a genius if you buy now — because nobody's paying attention to this story.
Look, it doesn't matter if you buy into the "green" movement or the whole global warming thing. To be honest, I'm not sold. But it's my job to read the market objectively. If you want to make money, you can't let your emotions call the shots. And the evidence is telling me that solar is about to go for one big joyride.
GTM Research — a respected energy research firm — predicts that solar panel installations in the U.S. will have grown 36% by the end of this year.
And as Bloomberg reports, "Solar will soon reach price parity with conventional electricity in well over half the nation: 36 states. Gone are the days when solar panels were an exotic plaything of Earth-loving rich people. Solar is becoming mainstream, and prices will continue to drop as the technology improves and financing becomes more affordable."
Bingo…
We started trading the solar-powered wave 18 months ago — well before any Wall Street analysts were sold on the trend. And we were able to nab gains of more than 32% in just a few weeks last fall. Solar stocks just kept climbing higher, defying all the "experts." Don't you love being right when all the smarty-pants are wrong? And making double-digit gains in the process?
All told, the sunny sector gained more than 330% between late 2012 and early 2014. If you're the buy-and-hold type, pat yourself on the back because you made a boatload. Maybe they should call you the Sun King!
Sure, the sector came back to earth recently because no trend — even the strongest — moves straight up. Just eight months ago, this group of stocks was up more than 40% on the year. But by mid-October, it had given all the gains back. But now, a bounce is brewing…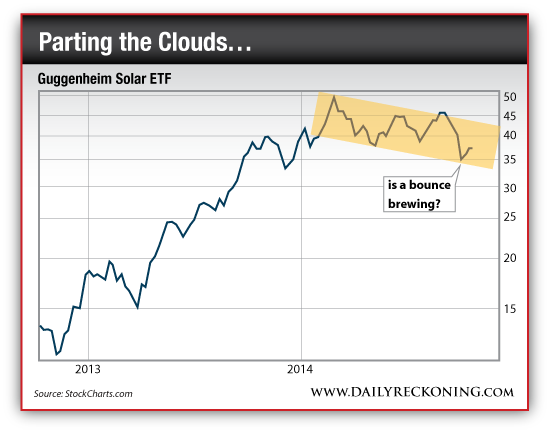 Just look at how the Guggenheim Solar ETF (NYSE:TAN) is once again bouncing off the bottom of its highlighted trading range. When you step back and take this long-term view of the trend, you can see how the past eight months — while tumultuous at times — have created a huge opportunity for anyone paying attention to the bigger picture.
That's right. While the experts are busy getting worked up over falling oil prices, solar power will soon be just as cheap as conventional energy costs in most places. Almost no one's talking about this development — but the writing's already on the wall. And you're way ahead of the curve now. In fact, most investors won't even touch solar stocks right now.
Consider leading solar company First Solar. It expects to generate up to $4 billion in revenue this year, yet its stock fell by as much as 30% from September into October. The market was weakening and skittish investors bailed. But First Solar is still a great company with huge upside. It's expected to post strong results for both the third and fourth quarters. Consider the recent panic a buying opportunity in this sector…
Regards,
Greg Guenthner
for The Daily Reckoning
P.S. Bottom line: solar is for real. And if you've positioned your investments accordingly, you stand to profit handsomely. I gave a more in-depth analysis of this incredible profit opportunity to my Rude Awakening e-letter readers — including a few chances to discover several other real, actionable stock picks. You can benefit from this research yourself, for FREE, by signing up for The Rude Awakening, right here. Don't wait… Your next issue (and your next shot a huge gains) is just a few hours away. Click here now to get started.