Play the Health Care "Earnings Catalyst" for Double-Digit Gains
The financial media is still busy yapping about October's market swoon… the oil crash… and the gold meltdown.
So you might have forgotten that we're about to wrap up earnings season.
Why do we give a rat's behind about earnings?
Because a quarterly earnings report can make or break a stock — and your trades. Great numbers can vault a company's stock to new highs, while disappointing earnings can send it reeling. At least in the short-term…
That's why you have to know exactly where to put your money as companies are tossing their numbers around this month.
Already this season, companies beating earnings expectations have seen their stocks spike almost 3% after two days. On the other hand, those coming up short have dropped 0.6% over the same period.
And as a trader, you don't want to be holding a stock about to cough up a bad earnings report. One bad earnings report can blow up your entire trade. But a good one can make you look like a genius.
Today, we're going to play a powerful "earnings catalyst" that should push one select group of stocks to new heights as the year winds down. Act on it today and your buddies might be calling you Einstein by New Year's Day.
I'll explain what it is — and how you can play this earnings catalyst for double-digit gains by trading a simple ETF — in just a moment…
But first, you should know that earnings have been kicking serious butt this season. FactSet reports that so far, 78% of companies have beaten Wall Street earnings consensus this quarter. That's the highest earnings beat rate since early 2010.
And according to Bespoke Investment Group, the average stock reporting this season has gained 1% on the day of its report.
Bottom line: it's been a darn good season for earnings. And you have a great opportunity to book some gains on this trend heading into the holiday season…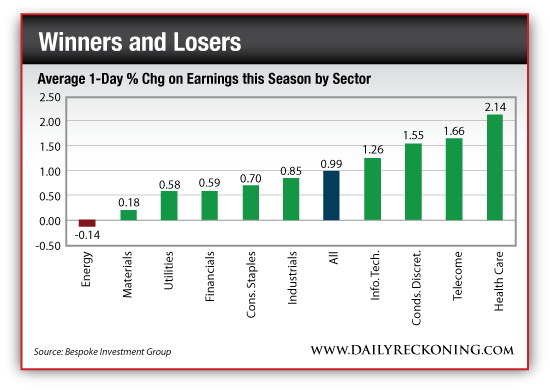 If you're looking to play the earnings game, you can't just throw darts at the overall market and expect to win. No sir, you need to put your money on the sector that's beating expectations.
And what sectors are showing the best earnings today? Hint: They're not Energy and Basic Materials. The chart says it all. Avoid these doggies. Your longer-term trading dollars heading into the end of the year should be in health care.
That's right, health care. Take another look at the chart. Health care companies are beating the stuffing out of earnings estimates from any other major sector. And as FactSet reminds us, investors are more prone to rewarding those beats than punishing misses. In other words, a stock coming in one thin dime ahead of expectations can shoot up dramatically. And we should be seeing a lot of that in the healthcare sector this season.
Health care has been a beast of a trade all year long. The sector is up more than 22% year-to-date, while the S&P 500 has gained only 9%. And the best part? I don't see a change in this trend on the horizon. So we're sticking with the strong earnings hand heading into the holiday season. And that's health care.
Regards,
Greg Guenthner
for The Daily Reckoning
Ed. Note: Health care isn't the only sector I see making huge gains through the end of the year… And I was happy to share the rest of my findings with my Rude Awakening readers. It's just one small benefit of being a Rude Awakening subscriber. Don't miss the next great "earnings catalyst" set to make you huge profits. Click here to sign up for FREE, right now, and discover the best stocks the market has to offer before anyone else.