A Republican Senate Could Mean Huge Gains for Coal. Here's Why.
Politics suck. But this election season, you're getting paid.
The Republicans have won back the Senate. And they're about to hand you a winning trade on a silver platter — with a bit of soot around the edges.
I'm talking about coal.
…as the EPA relaxes its grip on the "polluters," it'll be off to the races for… coal stocks.
Yup, we're going in on coal. And we're probably the only ones with the cojones to do it. That's alright, we don't like crowds anyway…
Look, I don't care if you're a greenie who hates coal with a purple passion. I don't care if you've reduced your carbon footprint to the size of a chipmunk's. If you want to make some real green, it's time to bet on coal.
Now, you might think I'm nuts. And you might insist that coal is an environmental disaster. That's fine. But it doesn't matter if I'm nuts. Here's what does matter — Republican Senator Jim Inhofe of Oklahoma doesn't know (or care) that coal is bad for the environment.
And now that the Republicans have retaken the Senate, Inhofe is the likely choice for chair of the Environment and Public Works Committee, which oversees the Environmental Protection Agency. And Jim Inhofe is a vocal climate change skeptic — or denier — depending on who you choose to believe.
Once he's in the saddle, you can bet he'll loosen the reins on the coal industry. And as the EPA relaxes its grip on the "polluters," it'll be off to the races for some of the most hated stocks on the market — coal stocks. Here's why this one could be a huge winner for us…
The biggest money is made from hated, beaten-up investments that are beginning to turn around, before anyone notices. And few investments are more hated and beaten-up than coal right now. It's gone nowhere but down for the past three years. In fact, you'd be hard pressed to find anyone talking up coal these days.
But as you'll see in a minute, coal is starting to turn the corner. We've noticed it, but we might be the only ones. And we see coal heading for a major rally — which you can ride for all it's worth.
Yes, it's true. Over the past three years, coal has been one of the worst dogs going. One of the main reasons? Investors believe the government's been trying to kill it off in favor of greener alternative energy — Obama's favorite. And they've been right…
Back in July, Obama's Environmental Protection Agency announced that power plants must reduce their emissions of carbon dioxide by 30% by 2030. It was a declaration of war on coal. That was the last straw for investors.
I wrote the following back in July, shortly after the EPA ruling…
"Investors hate coal stocks because they've brought them nothing but pain. Environmentalists hate coal because it pollutes. And politicians hate coal because they see an opportunity to jump on the bandwagon and gain some much-needed positive publicity."
Sure enough, the bottom fell just out under coal in late August. And it went into freefall. Take a look for yourself: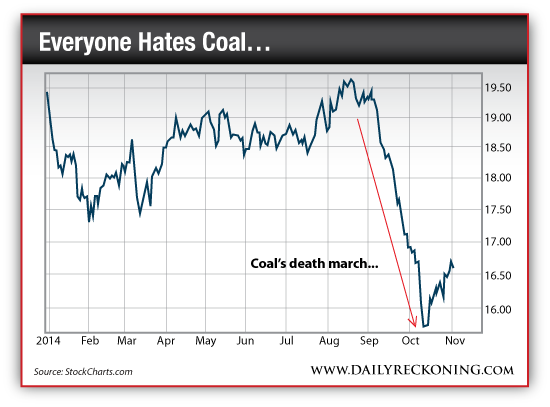 Talk about a hard landing! Coal is down about 15% this year alone. The sector has been dropping for nearly three years now, as I mentioned. In fact, since the beginning of 2011, the coal sector has lost more than 60% of its value.
But coal looks like it finally hit rock bottom in October. The political climate is swaying to the right. And as the chart shows, coal is already attempting a turnaround. It pulled out of its death spiral about two weeks ago. One of the most hated investments in the world is giving a big "eff you" to the haters.
Politics aside, coal is still a viable (and crucial) source of energy in this country and around the world.
With all this talk of green energy, we still have an enormous need for the sooty stuff in the U.S. Coal still generates about 40% of our electricity. Compare that to alternative energies like wind and solar — wind is responsible for a little over 4% of our electricity generation — and solar about .25 percent. As in, a quarter of one percent.
Listen, coal's not going anywhere for a long time. We need it, it's available for duty, and it looks like it's about to get a friend in a very high place now that Republicans have nabbed the Senate. Add it all up and you have a great chance to steal some serious profits as coal bounces back to realistic levels.
Regards,
Greg Guenthner
for The Daily Reckoning
P.S. Now is not the time to sit on the sidelines, and I'll have more on coal's profit potential as the story progresses. To get the most up-to-the-minute advice on this and other great investment opportunities, sign up for my Rude Awakening e-letter, for FREE, right here. Each morning, I pick one market sector to dissect and tell you exactly how to play it. It hits your inbox right around the opening bell, every trading day, to ensure you're in the best position to profit. Don't miss another issue. Click here to sign up for The Rude Awakening, for FREE, right now.