A Way to Play the Tech Bubble – Even If it Bursts
"Tech is in a bubble. Get out while you can!"
That's what many analysts are screaming right now. Some are even comparing the tech sector to the heady days before the dot-com disaster of 2000.
And you know what? They might be right.
But it doesn't matter — we can make a bundle on tech stocks anyway. Because not every crazy tech stock, social media start-up, and software firm is a dud. And today, we're gonna cast our lots with some of the winners.
That's right, we're playing the tech sector.
Sure, things have gotten frothy in tech land. Venture capitalists are throwing millions of dollars at start-ups that have questionable prospects, just like they did back in the late '90s. That was during the "new economy," before the dot-com boom went boom. And things are starting to look pretty familiar…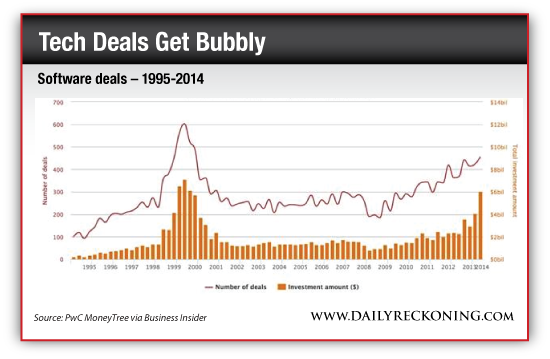 "Note that the total investment amount is now back above $6 billion, where it was during the dot-com crash of 2000," Business Insider reports. "The number of deals is smaller. That could be a good thing — it might mean that investors are withholding dollars from companies they feel are weak. Or it may be a bad thing — more dollars chasing fewer companies could lead to a situation in which those companies are massively overvalued."
Bingo.
So you can see why everyone and their mother is crying, "BUBBLE!"
But I have news for you… there's some gems buried under the junk pile. Sure, there are plenty of new companies that are showing up just in time to get paid and get lost. But that doesn't mean you have to circle the drain with them…
While hundreds of millions of dollars are flowing into smaller start-ups that may (or may not) pan out, your trading dollars should stay with the very best companies in the tech world. Instead of trying to buy the lotto ticket stocks, stick with the tried-and-true names that have already showed investors tremendous growth.
Facebook (NASDAQ:FB) and LinkedIn Corp. (NYSE:LNKD) are perfect examples. Both of these companies are dominating their respective social networking niches. They have some of the smartest management teams in the business — and the growth to prove it.
No, neither Facebook nor LNKD are "cheap" by any standards. But what's important here is that they're beating growth expectations and proving they can win advertising dollars and dominate the web. You won't find these characteristics in any of the fly-by-night startups that are attracting some of this "bubble money" right now.
Even if this new tech mania begins to boil over, companies like Facebook and LinkedIn will only get stronger. So forget about bubbles and put your money in the best-of-breed names. Your portfolio will thank you…
Regards,
Greg Guenthner
for The Daily Reckoning
P.S. To get the most up-to-the minute analysis on this and various other market sectors, sign up for my Rude Awakening e-letter, for FREE, right here.