How Organic Food Can Naturally Grow Your Portfolio By 40% or More
Organic retailers just ignited a spark that is going to burn down the traditional food business as you know it.
And the exploding organic, anti-junk food movement is going to be a market game-changer over the next few years. While junk-food pushers watch their profits turn to ashes, you can ride this destructive trend to massive gains.
According to Grand View Research, the organic food and beverages market will spike to about $211.44 billion by 2020. That's a full 16% higher than today.
…there's a growing demand for "green" organic and hormone-free foods.
And that means it's taps for the junk jockeys. But it's great new for us, as we'll be able to ride organics all the way to the bank. And since few investors see the potential in these stocks right now, we'll be some of the first ones on the gravy train…
In a moment, you're going to see how you can play the organics revolution for gains 40% or more over the next few months. But let's go back a couple of weeks first…
You remember when we discussed the super-sized "McDisaster" brewing in the fast food biz two weeks ago (shares have been in a tailspin since June). Investors have bludgeoned McDonalds stock with a sustainable, organic baseball bat after the fast food giant reported slumping sales this year. And get ready because this may shock you — McDonalds is dead last in food quality, according to a recent Consumer Reports survey.
Partner-in-crime Coca-Cola is also taking it on the chin. After posting disappointing earnings and a terrible full-year outlook last month, Coke shares took their worst one-day hit since October 2008 — back when the market was suffering its worst crash in decades. Here's some more bad news for Coke — per capita consumption of soda is down almost 30% since its peak in 1998, according to IBIS World. Ouch!
Look, I've said it before and I'll say it again: consumers just aren't choking down junk like they used to. Consumers are clearly looking for healthier alternatives, and there's a growing demand for "green" organic and hormone-free foods. About 70% of Americans are buying some form of organic food now, according to the Hartman Group.
Even retailers like Walmart and Target — favorites of the Cheez Doodle crowd nationwide — are going organic these days. There's no way around it… this is a trend that's here to stay.
This demand for better food is finally showing up all over the stock market. That's the spark that's lighting the fire. On Friday, I showed you how shares of The Fresh Market (NASDAQ:TFM) jumped more than 6% in just a few hours thanks to a timely short squeeze. Investors thought higher price tags and commodity prices would keep shoppers away from establishments like The Fresh Market. They were wrong…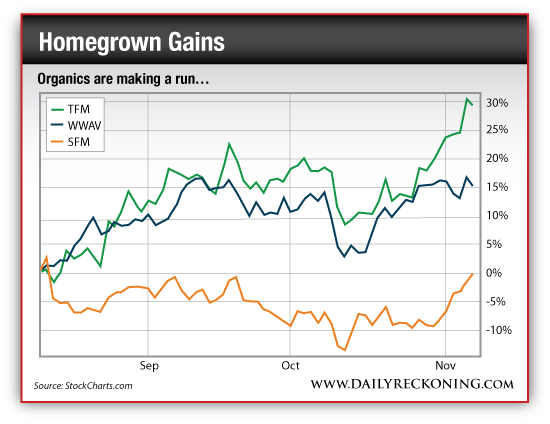 But as usual, there are much bigger trends brewing beneath this one-day move. Companies are realizing they need to shift focus to healthier options or watch their market share evaporate. Unless you want to give your portfolio a coronary, you need to drop the junk food stocks. Now.
And don't worry — there are plenty of names in the organic grocery biz you can pick up today. They'll replace your artery-clogging stocks with hearty gains.
You already know about The Fresh Market and how it's fresh off a nifty short squeeze. You should also check out Sprouts Farmers Market (NASDAQ:SFM), which is finally starting to perk up. There's also WhiteWave Foods (NYSE:WWAV) — another great name in this space that's trading close to its all-time highs.
Regards,
Greg Guenthner
for The Daily Reckoning
P.S. The best stocks in this group stand to gain 40% or more in the months to come. If you want to cash in on the biggest profits this market has to offer, sign up for my Rude Awakening e-letter, for FREE, right here. I'll be tracking the sector very closely, and sharing ally my findings — including huge potential winners — with my readers. Don't miss out. Click here now to sign up for FREE.