Housing Market Comeback: Prepare to Double Your Money
[Ed. Note: Greg Guenthner has harbored bullish feelings on certain elements of the US housing market since last year. He said as much just a few months ago, on Aug. 26, when he detailed a secret "buy" signal in US housing. Well, today he's back with another bullish report on US housing stocks… and how you can use this unloved sector to your advantage. Read on…]
If you'd like to double your money over the next year, it's time to buy housing stocks. Sounds crazy?
Keep reading…
Sure, all the experts say the housing market is a graveyard right now.
Mortgages applications are down. Home prices are still too damn high. Interest rates have to nowhere to go but up…
And homebuilder stocks? Might as well flush your money down the toilet. They're down about 25% from February to October. And Bloomberg suggests they are "vulnerable to further declines."
Yeah, yeah. Blah, blah, blah…
If you'd like to double your money over the next year, it's time to buy housing stocks.
You know what? We're not listening to any of it. Remember, like I always say, the biggest investing gains are made when everyone has written something off. That's the housing market right now.
In fact, the housing market is going to be the comeback story for 2015. And I'll show you how to play it in just a minute. Seriously, if you load up on housing stocks right now, your friends and family will think you're a genius this time next year.
So here's what's happening…
After being given up for dead, homebuilder stocks are springing back to life right now. Since bottoming out on October 13th at $21.26, the leading housing ETF has surged all the way to $24.79 – in under a month.
And this turnaround happened just as investors are turning sour on the U.S. housing market.
But that's great news for you because you get to hop on that wave before anyone else.
So why are so many folks thumbing their nose at the housing market right now?
For starters, both Fannie Mae and Freddie Mac reported crappy third quarter earnings. And these earnings reports revealed some more scary numbers…
"Looking at data from Fannie Mae, single-family mortgage issuance declined 43% in the third quarter from a year earlier with issuance for home purchases down 15% and refinancings down a staggering 61%," TheStreet.com reports.
Oh, and there's also another tiny problem: No one's really buying houses right now. First-time home buyers have sunk to their lowest level in 30 years, according to the National Association of Realtors.
So why buy homebuilder stocks now if the data is so horrible?
Glad you asked…
First, you should ignore most of these numbers. I've told you before that backwards-looking data like this aren't going to help you get in on the ground floor of a big change in trend. So home sales data, refinancings and first-time buyer numbers are already baked into the pie. These are known issues. Unless new data starts painting an even scarier picture, it's already priced into the homebuilder stocks.
Next, we have a huge swath of the population that has delayed buying a home because of the prolonged recession. You've probably heard a lot of talking heads yammer on about how young people are dropping the ball when it comes to careers and savings. In fact, only 36% of Americans under the age of 35 own a home, according to the Census Bureau (that number was 42% in 2007). You can insert your own joke about texting or working a tech startup here if that's your thing. But the fact of the matter is this younger boom generation will eventually settle down, start families and, yes, even buy houses. And when the levee breaks, there are going to be a ton of young couples fighting over houses in a market where building hasn't really picked up from historic lows.
That's a recipe for more building. And that's probably why this chart looks so good right now…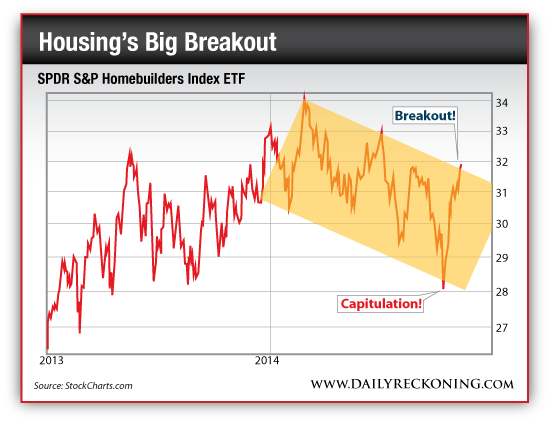 After peaking earlier in the year, the SPDR S&P Homebuilders Index ETF (NYSE:XHB) couldn't get out of its own way. Investors completely gave up on the homebuilders late last month. But that was the final straw. The last sellers finally left the building. This capitulation move set up this week's big breakout. Now, it's finding its legs again. And XHB looks set to challenge its 2014 highs.
Now's your chance to buy before this trend really gets going…
Regards,
Greg Guenthner
for The Daily Reckoning
P.S. I would not be surprised if 2015 is a lot like 2012 — where homebuilders saw gains of 90%-100%. If you want to cash in on the biggest profits this market has to offer, sign up for my Rude Awakening e-letter, for FREE, right here. I'll be tracking the sector very closely, and sharing all my findings — including huge potential winners — with my readers. Don't miss out. Click here now to sign up for FREE.