One-Time Event in Chinese Stocks Could Show You Quick Double-Digit Gains
[Ed. Note: Greg Guenthner has been tracking Chinese stocks since May. Now he's spotted an enormous buying opportunity thanks to a historic, one-time event that's about to unfold. Read on…]
In just 5 days, on Nov. 17th, the second-largest economy in the world will hand you an enormous profit opportunity.
China is tearing down its "Great Wall". For the first time ever — as in, ever — China is opening its mainland stock markets to non-institutional investors.
And the tea leaves are telling me you could make fast, double-digits gains as this historic, one-time event unfolds — if you hurry up and act now.
Because you can get in before the huge crowd that'll soon be stampeding into the colossal Chinese market, driving up the value of Chinese stocks. You'll find out how in just a minute…
And the best thing? Hardly anyone is paying attention to this seismic development about to take place. They're still too busy talking about the recent elections or the alarming increase in the number of exorcisms nationwide.
OK, so here's the deal…
In just 5 days, on Nov. 17th, the second-largest economy in the world will hand you an enormous profit opportunity.
You see, most investors can't get their hands on stocks traded in mainland China. Sure, investors from all over the world can invest in stocks trading in Hong Kong. But on the Shanghai Exchange? Nope. Not allowed — unless you're an approved institutional investor.
But that all changes Monday, November 17th. And everything the world knows about Chinese stocks will change.
After a couple of false starts, China is opening up its exchanges in Shanghai and Shenzhen (just opposite Hong Kong) to the world. Well, sort of. The new "Shanghai-Hong Kong Stock Connect" program will give regular investors a shot at mainland Chinese stocks.
As Goldman Sachs tells MarketWatch, "The scheme essentially… creates the world's second-largest equity market by market cap second only to the New York Stock Exchange… In cash-trading terms, the new China mega-bourse would come third globally, behind the NYSE and Nasdaq."
"[The Stock Connect] could eventually add 855 companies with over $1 billion of listed market cap to the investable universe… in which foreign investors can buy all A-shares listed not just in Shanghai but on the Shenzhen exchange as well," Goldman Sachs continues.
And here's where your ship comes in…
The charts are telling us that investors from all over are ready to pounce on these stocks as soon as the Chinese cut the rope…
And once they do, the prices of these stocks could surge like floodwater as all that volume pours into the market. This could be the perfect time for this play, too…
The Shanghai Composite has trended lower for a very long time. Seven years, to be exact. That's right. While your portfolio started to recover in 2009 — and pop to new all-time highs last year, Chinese stocks were stuck well below their 2007 peak. In fact, they're still nowhere near those levels — even after hitting 2-year highs this week.
Here's a chart I made for you back in May. Just look at how Chinese stocks dragged along their "road to nowhere" for years…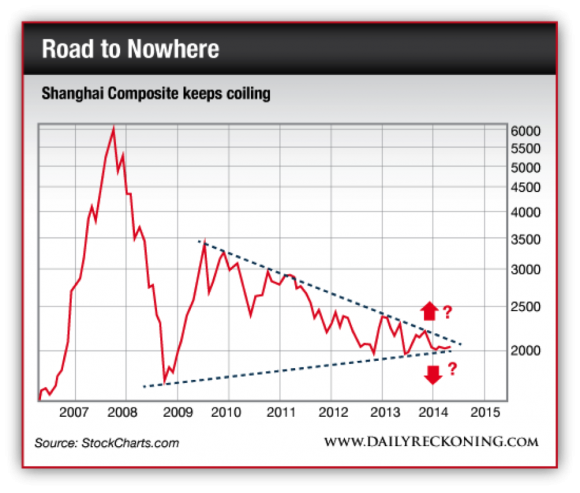 Something had to give. And it did. And sharp traders playing this breakout almost a decade in the making stand to make a killing.
Here's a zoomed-in view of what's happening right now…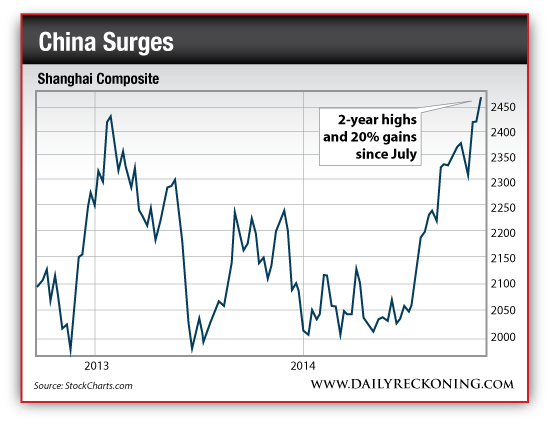 Since July, the Shanghai Composite has gained more than 20%. That's a remarkable move. More importantly, it breaks above that big coil we showed you earlier. Buyers are already stepping in. And it's time for you to ride this new wave in Chinese stocks before the rest of the world takes notice.
As I already mentioned, unless you're an institutional investors, there's no way you can jump on individual mainland China stocks before Monday. However, some of these major stocks also trade in Hong Kong as well (those are called H-shares). And I think the rising tide will lift all boats.
Regards,
Greg Guenthner
for The Daily Reckoning
P.S. Look, it doesn't really matter what you think of the Chinese government, its corruption or its supposed real estate bubble — it's still the second-largest economy in the world. There's a big opportunity here. If you want to cash in on the biggest profits this market has to offer, sign up for my Rude Awakening e-letter, for FREE, right here. I'll be tracking the sector very closely, and sharing ally my findings — including huge potential winners — with my readers. Don't miss out. Click here now to sign up for FREE.