Don't Buy Facebook Stock Right Now. Here's Where to Book Gains Instead…
[Ed. Note: Greg Guenthner thinks Facebook is a good company, but doesn't think it's a good time to buy its stock. In keeping with his pattern of finding bargains off the beaten path, Greg recommends a different (undervalued) social media stock promising much larger gains. Read on…]
Facebook is a beast. It's taking over the world. Good time to buy, right? Wrong.
You're about to learn why you shouldn't buy Facebook right now.
To me, spending any significant amount of time on Facebook is akin to walking directly into a fiery hellscape littered with billions of baby pictures, public breakups, and asinine arguments over just about anything.
But let me say it right up front — I think Facebook is a good company. It might even be great. Mark Zuckerberg knows what he's doing and clearly has a vision to grow the business. Since becoming a public company, Facebook has already gone from virtually no mobile presence to 456 million mobile-only users. There's really no way anyone can downplay this colossal shift.
But…
You shouldn't run out and buy shares of Facebook, even though it's dipping right now. Why?
Because the Facebook bus is crowded — and I don't think there are many seats left. Go talk to some neighbors or relatives right now. Ask them what they think of Facebook stock. Unless they've cut themselves off from all human contact for the past few months, chances are they're bullish on its prospects. And that's a red flag. When everyone's bullish on something, it's time to get a little nervous…
I've been searching around on investing message boards and blogs for the past few days — and I've been hard pressed to find any big bearish arguments against Facebook. The best I can come up with is the usual complaints that stock is a little expensive.
But those who have that opinion felt the same when Facebook was trading for $35 last year (it's going for a little less than $74 per share right now).
And the charts are telling us Facebook may be getting worse before it gets better. Look no further than the stock's performance over the past six weeks…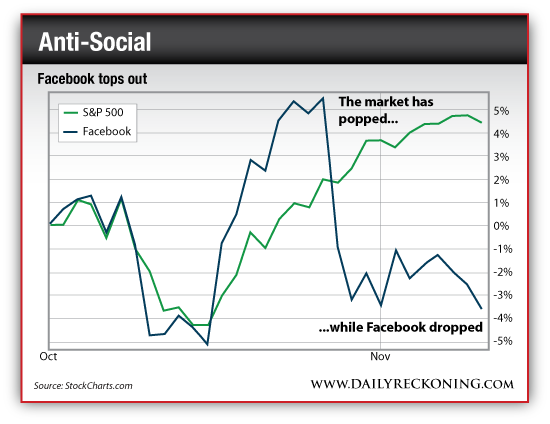 Since the beginning of October, the S&P 500 has gained almost 4.5%. Facebook traded right in line with the S&P during the market's sharp "V-bottom" back in mid-October. However, after topping out on October 28th, the King of Social Media has completely lost its mojo.
Heading into the end of the year, we want to see stocks like Facebook leading the market — not lagging behind. Back in 2013, Facebook and Twitter were a couple of the best trades you could make heading into the holidays. In fact, Twitter stock shot up an eye-popping 67% during the final two weeks of December 2013, while Facebook jumped upwards of 20%.
Judging by what these stocks have shown us over the past six weeks, we might not see a repeat this year. Facebook is a dead trade heading into the holiday season. Stay away. It'll be back, but now's not the time to jump in.
Regards,
Greg Guenthner
for The Daily Reckoning
P.S. Unlike Facebook and Twitter, LinkedIn is on a scorching tear. The stock is now more than 60% above its May lows. If you want to cash in on the biggest profits this market has to offer, sign up for my Rude Awakening e-letter, for FREE, right here. I'll be tracking the sector very closely, and sharing ally my findings — including huge potential winners — with my readers. Don't miss out. Click here now to sign up for FREE.