Make 20% Investing in Retail Stocks This Holiday Season
[Ed. Note: Back in May, Greg Guenthner said to stay away from retail stocks. Now he's singing a different tune, as retail stocks are beginning a major breakout. Don't let this market pass you buy. Read below for his full assessment…]
Black Friday approaches…
No, I'm not talking about a market meltdown. I mean America's unofficial busiest shopping day of the year. And instead of getting trampled to death fighting over a cheap flat screen TV at Best Buy the day after Thanksgiving, you should stay at home eating leftover turkey and buying retail stocks instead.
That's right — the retail sector is back in action after riding the pine for the better part of the past year. And you're looking at gains of 20% if you get in now. I'll show you the best way to do it in a minute…
First, check out the challenges retail stocks have faced this year. Five months into 2014, retail stocks were falling into the meat grinder. The entire sector — minus a few names like Tiffany and Co. that cater to the one-percenters — was getting ground into mince meat.
Now, after a furious rally, retailers are coming on like gangbusters…
As of late May, the S&P Retail Index was down 7% on the year. It managed to fight back above breakeven twice — once in July and again in August. But retail stocks continued to lag behind the market for the rest of the year…until just two weeks ago.
Now, after a furious rally, retailers are coming on like gangbusters…
Back in May, I told you to avoid this sector. After all, the popular, middle-of-the-road and discount retailers were getting slapped silly. Walmart cratered after reporting a lackluster first quarter. Dick's Sporting Goods fell 18% after it warned of weak sales. Staples dropped more than 12% after missing analyst forecasts. Not a pretty picture.
At the time, energy stocks were rocketing higher almost every single day. That was the easy trade during the first half of the year.
But now that oil has fallen off a cliff, the board has tilted in favor of retail once again. This is the time of year when the talking heads on TV are going to be asking all the analysts about holiday shopping projections and how Tickle Me Elmo sales will boost stocks. That's all garbage. Let me spare you the agony — holiday shopping isn't rocket science. People spend money this time of year, and they might spend a little more than expected this year because they're saving a bit on gas. Like I said, it ain't rocket science…
The average price of a gallon of gas is at $2.99, down from $3.70 in late June, according to AAA. That's a huge discount that will help consumers save billions. Oh, and oil is in the gutter again. Crude dropped nearly 4% yet again yesterday afternoon…
All of this adds up to some pretty impressive rallies throughout the retail sector. Don't believe me? Just check out your favorite (or least favorite) retailer. Its share price has probably jumped sharply over the past couple of weeks…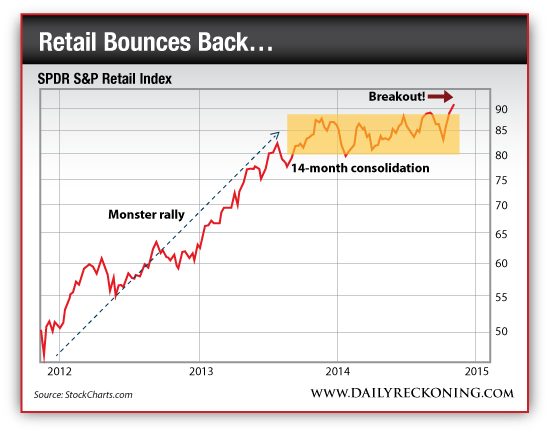 Walmart jumped more than 4% yesterday alone on its third quarter earnings report. Same-store sales, an important retail metric, rose for the first time in seven quarters. That's just the boost it needed heading into the holidays…
Despite stiff competition from online price matching, I still think stocks like Walmart can outperform heading into 2015.
Regards,
Greg Guenthner
for The Daily Reckoning
P.S. The S&P Retail Index is up 13% over the past four weeks. And it looks like Target and Walmart are no longer struggling with weak sales. Heck, they might even beat expectations this season. If you want to cash in on the biggest profits this market has to offer, sign up for my Rude Awakening e-letter, for FREE, right here. I'll be tracking the sector very closely, and sharing ally my findings — including huge potential winners — with my readers. Don't miss out. Click here now to sign up for FREE.