How to "Hijack" Profits from Transportation Stocks With Warren Buffett
[Ed. Note: Recently, our investment analyst Greg Guenthner has been writing extensively about the downtrend in oil prices. Below, he continues that conversation, and relays one way he thinks is a great way to profit from them. Read on…]
Warren Buffett is a thief.
He stole something recently that would make the top safe-cracker in the world green with envy.
No, he didn't break any laws. In fact, the man was just doing his job — snapping up great investments at dirt-cheap prices. But he really did pull off an amazing heist recently. And the best part?
You can join him in the perfect caper for gains of 35% or more over the next year alone…
Yup, you can cash in right alongside the legendary investor. And you don't have to drive a getaway car, pack a "heater," or be a lookout to get your cut of the action. All you have to do is follow him to the pot of gold. Invest in what he's investing in. And I'll show you exactly how in just a minute…
Listen, Buffett's big heist reads like a story out of the Old West. Five years ago, the Oracle of Omaha hijacked a railroad. More accurately, Buffett bought Burlington Northern Santa Fe (BNSF) Railway for a little more than $26 billion.
You can join [Warren Buffett] in the perfect caper for gains of 35% or more over the next year alone…
The deal was supposed to take decades to pay for itself. After all, recouping a $26 billion investment takes a long time.
As Bloomberg reports, "Days after Warren Buffett announced his $26.5 billion buyout of railroad BNSF, he insisted that he'd paid a steep price to own a business that would benefit his company, Berkshire Hathaway Inc., over the next century."
Over the next century. As in, this deal was expected to pan out over the next 100 years.
But let's just say things didn't exactly work out that way. As it turns out, Buffett's bet played out a heck of a lot quicker than anyone expected.
In fact, according to Bloomberg, BNSF is on pace to return all the cash he spent by the end of this year.
Just to make sure we're all on the same page here, this means that Buffett's shrewd investment is paying for itself in exactly five years — not 100. Or more accurately, in the words of Berkshire shareholder and author Jeff Matthews: "He stole it."
So how did Buffett's railroad investment pay off so quickly? And what is it the key to your trade today?
Oil. That's right — oil. The BNSF runs right through all the major shale exploration areas in the country. And 60% of all Bakken oil is shipped by rail. Just how big has the shale oil boom been for railroads? Well, according to the American Association of Railroads, there were 9,500 rail cars carrying crude oil nationwide in 2008. And just five years later… there were more than 400,000. Make sense now? As the Bakken boomed in North Dakota, Buffett added to his fortune every time an engine carrying black gold hit the rails.
Now, you can't buy BNSF. That's all Berkshire's. But you can invest alongside Buffett here. You see, while oil has helped make Buffett's BNSF deal a roaring success, it will also help you bank on our next trade. Just not how you're thinking…
As I'm sure you know already, the price of oil is tanking these days. A barrel of the sweet stuff goes for less than $76 right now. That's the cheapest price we've seen in four years. And do you know what that means? It means transportation stocks like railroads and trucking companies are soaring to new highs thanks to cheaper fuel costs. Oil will come back — as I've predicted — but it won't happen overnight. That'll leave you plenty of time to ride this cheap-oil choo-choo for runaway profits.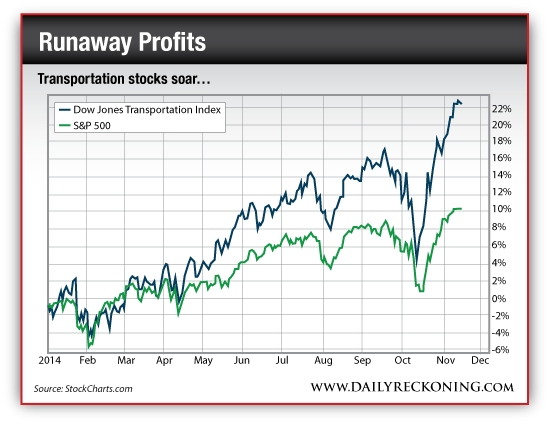 Transportation stocks are the best performing names on the market over the past month. Since the market bottomed out on October 13th, the Dow Jones Transportation Average has soared an incredible 18%. So if you thought the S&P's furious 11% rally has been a sight to behold, you clearly weren't paying attention to the soaring plane, train and trucking stocks that have exploded over the past four weeks.
Regards,
Greg Guenthner
for The Daily Reckoning
P.S. It's not too late for you to hitch your wagon to this parade. In fact, there's a railroad stock you can buy today that I believe could rise by more than 35% over the next year. If you want to cash in on the biggest profits this market has to offer, sign up for my Rude Awakening e-letter, for FREE, right here. Don't miss out.