Fatten Up Your Portfolio With Bar and Restaurant Stocks
[Ed. Note: Given the recent surge in the retail sector — not to mention rising consumer confidence — Greg Guenthner sees a unique opportunity that other people might be overlooking: bar and restaurant stocks. Read on to see why he thinks these assets will excel in this environment…]
Eat, drink and be merry — for by January you could pocket a 25% profit from bar/restaurant stocks.
That's right. The bar and restaurant sector is putting on serious pounds after more than a year of lean times. And I'll show you exactly how you can fatten up your portfolio by playing this breakout trend in a minute.
So why are bar and restaurant stocks on a tear right now?
Eat, drink and be merry — for by January you could pocket a 25% profit from bar/restaurant stocks.
Because the American consumer is back in the game after years on the sidelines, that's why. You're spending more (OK, so maybe your wife is spending more). Your neighbors are spending more. Plus, gasoline got a lot cheaper recently. And it's all adding up to a major shift in consumer habits that we haven't seen in years…
But wait — there's more. Consumer confidence sprinted to a 7-year high last week. So right now, we have a formula for an incredibly strong holiday season thanks to three big catalysts: a strengthening job market, unexpectedly lower gas prices, and a newly-confident swath of shoppers.
That extra $1 billion in U.S. consumers' pockets ain't gonna find its way into a savings account — that's for sure. We may be saving money on gas this fall. But that cash isn't just sitting in our pockets. No, it's going towards a night or two on the town…
Since the financial crisis, most folks have cut back on forays to their favorite pubs and restaurants.
But that's changing in a hurry…
As MarketWatch reports, "consumers must be feeling better. They boosted spending at bars and restaurants in October for the sixth straight month. Outlays on dining out have risen by an annualized 9% in that span, the fastest gain in three years."
And that means we're looking at a renewed boom in bar and restaurant stocks. Remember, confident consumers with more cash in their pockets are going to eat out more often. That's great news for the bar and restaurant stocks that have gone every which way but up for the past 13 months…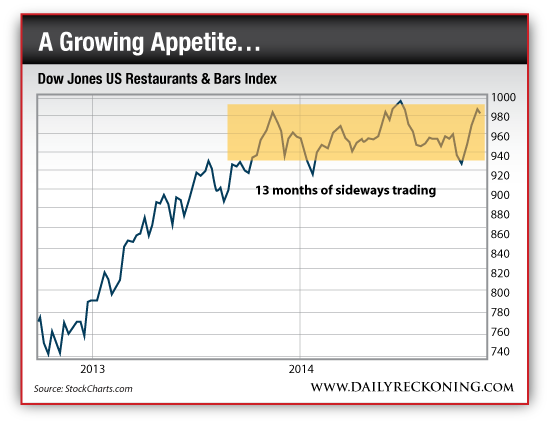 Regards,
Greg Guenthner
for The Daily Reckoning
P.S. Bar and restaurant stocks have soared off their October lows. The sector is up a cool 8% over the past few weeks — and I think this is just the beginning. If you want to cash in on the biggest profits this market has to offer, sign up for my Rude Awakening e-letter, for FREE, right here.