You Will Soon Be Bullish on Solar Energy – Here's Why…
[Ed. Note: While the resurgence in U.S. oil production has been dominating the headlines, our resident technology maven, Stephen Petranek, has been quietly following another story in the global energy sector… One that doesn't get much love right now, but could soon see a massive surge in development — and opportunity — over the next few years. Read on…]
Earlier this year, I traveled to Abu Dhabi for the World Future Energy Summit. The crown prince of Abu Dhabi holds the summit every year, and many industry insiders consider it the world's foremost event dedicated to renewable energies, energy efficiency and clean technologies.
While there, I asked a smart, Oxford-educated oil sheik what he thought was going to happen to the oil industry. He responded by pointing out the many solar arrays the United Arab Emirates is building in the desert. He told me the rest of the world will never allow his country to use most of the oil it's floating on. He fears that when people begin to see climate chaos ruining their everyday lives, they will turn on oil companies the way Americans turned on tobacco companies.
The amount of energy produced by solar has been doubling every two years for more than a decade.
Climate chaos is here. As I write this, the New York State Thruway has been closed and a large area from Buffalo to Rochester, New York, is being buried by never-before-seen snowfall. In some areas, six feet has already fallen. Weather forecasters are predicting a new 24 hour snow record, which has been 76 inches in Silver Lake Colorado for 90 years. The New York snowstorm isn't a phenomenon of the Rocky Mountains, where we expect heavy snowfalls. This isn't January, It's mid-November. Within a few days, vast swaths of New York will be under an average five feet of snow. That snowstorm is a complicated spinoff from a huge typhoon created by a warming Pacific Ocean.
And it's not like no one saw it coming. The Union of Concerned Scientists reports:
"As the Earth warms, the amount of rain or snow falling in the heaviest 1% of storms has risen nearly 20% on average in the United States — almost three times the rate of increase in total precipitation between 1958 and 2007.

"In other words, the heaviest storms have very recently become even heavier.

"The Northeast has seen a 74% increase in the amount of rain or snow falling in the heaviest storms."
We will soon witness the same kind of change in thinking Michael Bloomberg experienced after Hurricane Sandy hit New York City. Before the storm, he wasn't sure about global warming. Afterward, he was convinced.
Concept becomes reality when a hurricane floods your house to the second floor or you have to pay a four-wheel-drive, heavy-duty front-end loader $1,000 to clear your driveway.
We are likely to experience ever-worsening and more chaotic weather for a long time before we can turn things around.
The good news is that things are turning. Industrial powerhouse Germany is well on its way to its goal of producing 80% of its electricity from sustainable, non-CO2-producing sources by 2050. Japan is also leading the way. Both countries are focused on solar power, and the rate of acceptance is phenomenal worldwide.The amount of energy produced by solar has been doubling every two years for more than a decade. The power of that exponential curve is going to get very interesting soon. There will be 1,000 times more power produced by solar photovoltaics in 20 years. In 2008, futurist Ray Kurzweil predicted we would need only eight more doublings of solar output to be at 100% by 2027.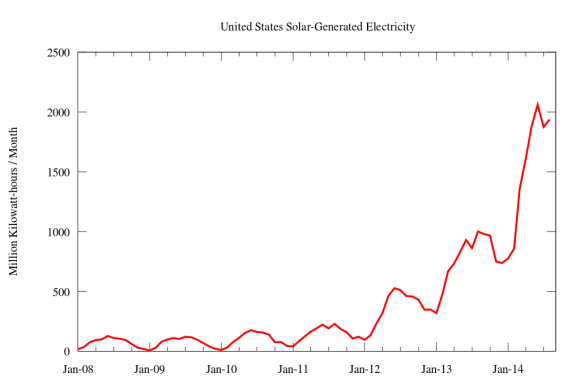 Monthly solar power generation in U.S.
Meanwhile, solar has reached grid parity — meaning it costs no more than conventionally produced electricity from coal, oil, gas and nuclear sources — in 10 states. Two weeks ago, Deutsche Bank predicted solar rooftop panels will reach grid parity in all 50 states by 2016. In only 13 months, it will be cheaper to put solar panels on your roof than to buy power from your local utility. It's not just the oil companies that are in trouble — it's those utility bonds.
The latest report from Intergovernmental Panel on Climate Change (IPCC), released on Nov. 2 with little media notice, has abandoned its usual qualifying language, such as "likely" or "data indicate the possibility that…"
It says flat out that if major changes in our atmosphere are not forthcoming by 2050, we will tip into a chaotic state of unpredictable and violent weather by 2100. The report notes that those changes are already starting to occur and are obvious in our everyday lives. It says we must move to eliminate all greenhouse gas production by humans by 2100 if we want a reasonably predictable planet to live on.
Even most major oil companies now agree we have to burn less fossil fuels.
That means we must phase out fossil fuels as soon as possible.
The IPCC says most of the heat buildup is occurring in increasingly acidified oceans. We simply must switch to mostly renewable fuels by 2050 and eliminate fossil fuels by 2100.
Even most major oil companies now agree we have to burn less fossil fuels.
Last April, Exxon Mobil issued a statement saying it believes three-fourths of the world's energy will come from fossil fuels in 2040. However, the press release also acknowledges that fossil fuels are indeed increasing carbon dioxide emissions and raising temperatures.
On its website, Shell Oil says: "CO2 emissions must be reduced to avoid serious climate change. To manage CO2, governments and industry must work together. Government action is needed, and we support an international framework that puts a price on CO2, encouraging the use of all CO2-reducing technologies."
Oil companies are even abandoning ALEC, the American Legislative Exchange Council, which has promoted climate change denial by writing legislative bills for representatives to submit to state legislatures.
More than half of all new electric-generating capacity in 2014 has come from solar.
In September, Occidental Petroleum, the nation's fourth-largest oil company, decided to cease backing the group.
That came shortly after Google chairman Eric Schmidt declared that his company would no longer support ALEC. In an interview on the Diane Rehm radio show at the time, he said, "They're just — they're just literally lying."
First of all, I wouldn't want to be in oil long term. Oil companies will have to become "energy companies" ASAP.
And some of them are already on board. For example:
Total, one of the five supermajor oil companies, along with Exxon Mobil, BP, Chevron and Royal Dutch Shell, owns 66% of one of the world's best and biggest solar companies — SunPower Corp.
Four years ago, Chevron started Project Brightfield, its second testing facility for renewable clean energy. Project Brightfield repurposed a former refinery to test solar panels. Chevron's first entry into renewables was a wind farm on a repurposed Texaco refinery near Casper, Wyoming.
Second, utilities are already starting to balk at all the houses in America that have suddenly sprouted solar roofs. In most states, utilities are required to buy the power you don't consume — it's called net metering. According to the Solar Energy Industries Association, more than 500,000 U.S. houses and businesses now have solar installations. More than half of all new electric-generating capacity in 2014 has come from solar. As people switch to producing power where they are and buying garage batteries to store power for use when the sun isn't shining, utilities are going to lose customers at an accelerating rate. Their costs will increase, and many will simply go out of business. And those utility bonds your mother bought for her old age? Well, you know. Still, the denial propaganda persists. Not everyone gets it. BP, which sank $8 billion into renewable energy sources over the last nine years, is giving up on solar and wind and other renewables. Instead, the company says it will focus on raising refinery
efficiencies.
I own some BP stock. I'm selling.
Regards,
Stephen Petranek
for The Daily Reckoning
Ed. Note: To find out how you can get a free copy of Stepehens latest reports, click here to sign up for the Tomorrow in Review e-letter, for FREE, right now.