A Rare Opportunity in "Old School" Information Technology
Forget about slumping social media stocks…
Today, you have a shot to pull in gains on some big, "sleep easy at night" stocks. And I think the sector I'm talking about is going to surprise you. I'll tell you what it is in just a minute.
As you may know, earnings season is dunzo. Kaput. Finito. Now we know all there is to know about the third quarter. So what have the numbers told us?
Well, for one, we know that retail names are bouncing back. We also know that Energy stocks are running on empty. Those are the glaringly obvious trends standing out from the pack right now.
But what about the rest of the market? Which sectors are beating estimates? Hint: the surprise answer — and the key to your trade — follows…
According to Bespoke Investment Group, during this earnings season, 62.1% of the 2,400-plus companies that reported earnings beat their earnings-per-share estimates. In other words, it was a darn good earnings season. Bespoke published a handy breakdown of the sectors that squashed expectations. The best three might surprise you: Industrials, Health Care, and coming in first? Information Technology. Yup — information technology — the one sector we haven't talked about. Until today…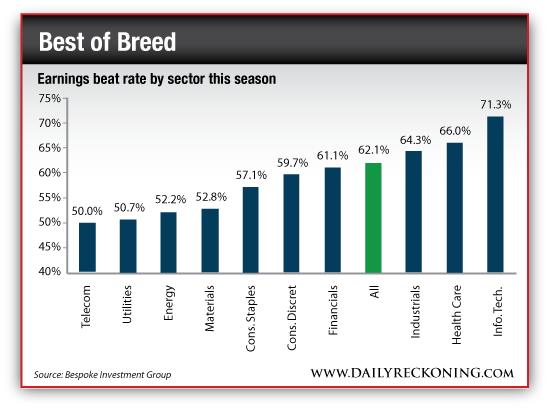 "As shown, Technology sector stocks beat earnings estimates at the highest rate. 71.3% of Tech stocks beat estimates. The next closest sector was Health Care at 66%," Bespoke reports.
That's right, information technology stocks ranked first in earnings. And if this sector keeps it up, investors won't hesitate to throw their money at the best of the group that consistently crush earnings expectations. So we're not going to let this profit opportunity slip through your fingers. No way…
Sure, I've done my share of blasting social media stocks like Twitter and Facebook lately. After all, they've lagged while the major market averages have recovered from their October lows. That ain't bullish in my book…
But we're not dealing with the "new tech" names in the social media sphere today. Nope. Your opportunity today comes from "old school" information technology, which looks like it's ready to deliver the double-whammy — killer earnings — and many stock showing beautiful breakouts. Hop on the IT trend today — and you're sure to find the next double-digit mover.
Regards,
Greg Guenthner
for The Daily Reckoning
Ed. Note: Buying the breakout ahead of next month's earnings sets you up for the perfect longer-term trade. If you want to cash in on the biggest profits this market has to offer, sign up for my Rude Awakening e-letter, for FREE, right here. I'll be tracking the sector very closely, and sharing ally my findings — including huge potential winners — with my readers. Don't miss out. Click here now to sign up for FREE.