Why You Should Be Buying Solar Stocks With Both Hands
[Ed. Note: Greg Guenthner has been discussing solar stocks for 18 months. Now he's even more convinced solar stocks are the way to go. See why, below…]
How would you like to double your money over the next year-and-a-half? Thought so. Then buy solar stocks. Now. With both hands.
I'll tell you exactly what to do in a minute. But first…
Remember a few weeks ago — at the end of October — when I first alerted you to solar's comeback move back? Well, it turns out I was a bit quick on the draw. I saw signs that a bottom was in. But as it turned out, solar stocks had a bit more work to do. And now they've turned the corner. If you bought a few weeks ago and haven't seen results, don't worry. I think you'll be handsomely rewarded in the near future.
That's because the second leg of the great solar rally is at hand. And if you're late to the party this time, you're going to cost yourself a ton of dough.
…if you're looking to double your money over the next 18 months, you need to quit staring at gas prices…
Sure, oil is cheap again, which means alternative energy should be a bad investment.
But listen, solar power isn't going away. Not by a long shot…
In fact, oil's recent slump has given you a unique opportunity to pick up your favorite solar stock at a bargain-basement price. So if you're looking to double your money over the next 18 months, you need to quit staring at gas prices — and start paying attention to solar stocks.
Remember, as I'm always drilling into your head, the most money you'll ever make is by betting against the crowd. And right now, the crowd hates solar because oil is cheap. Which means we love solar.
Need proof that solar's the way to go? OK, Doubting Thomas. Consider the following:
Solar panel installations in the U.S. are set to post growth of 36% by the end of this year. As I told you in October, solar power is coming close to reaching price parity with conventional electricity sources. That means that solar power will soon be just as cheap as conventional energy costs in most places. As I said a few weeks ago, it doesn't matter if you believe in global warming or anything. Solar is just a practical source of energy now, in many places at least. And…
One bellwether solar ETF is finally breaking out.
Take a look: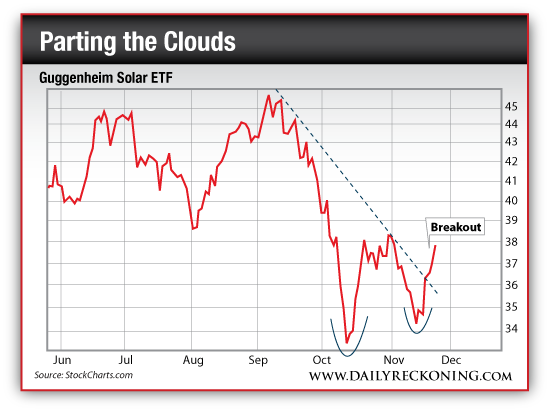 Just look at how the Guggenheim Solar ETF (NYSE:TAN) is blasting off after putting in a higher low earlier this month. Like I said a few weeks ago, when you step back and take this long-term view of the trend, you can see how the past eight months — while tumultuous at times — have created a huge opportunity for anyone paying attention to the bigger picture.
If you've been paying attention, you already know our history with sun-powered investments.
We started trading the solar-powered wave 18 months ago — well before any Wall Street analysts were sold on the trend. And we were able to nab gains of more than 32% in just a few weeks last fall. Solar stocks just kept climbing higher, defying anyone and everyone that got in their way.
And after going nowhere for nearly nine months, I believe solar stocks are setting up again to deliver savvy traders triple-digit gains. Consider today the beginning of the second leg of the Great Solar Rally. Don't get left behind…
Regards,
Greg Guenthner
for The Daily Reckoning
P.S. The market is giving you a second shot at solar gains today. All you have to do is reach out and grab 'em. If you want to cash in on the biggest profits this market has to offer, sign up for my Rude Awakening e-letter, for FREE, right here.