Profit Opportunities Rise Alongside Wages and Consumer Spending
[Ed. Note: There's been quite a lot of growth in the retail sector lately. And as a dedicated stock market analyst, Greg Guenthner has been been following this space very closely. And now he's found a new way to trade it. Read on…]
Today, you've got a chance to nab a quick 20% gain from a trend hardly anyone has noticed – the rising income of the American worker.
"The what?"
Yup, that's what I said. American paychecks are getting larger. And fortunately, you can cash in on this trend of "poor folks' profits". I'll explain how in just a minute…
We're finally beginning to see signs that the stagnant wages strangling the working class are beginning to ease. Heck, things are actually looking up.
The job market's just getting more competitive. And that rising tide is lifting all boats…
As Bloomberg reports, lower-wage workers saw bigger pay gains over the past year than the highest earners. That's exactly the opposite from what we were seeing during the earlier stages of the recovery.
"For the first time, real paychecks of households in the middle class are not getting smaller anymore — they're getting incrementally bigger," RBS Securities economist Guy Berger tells Bloomberg. "This puts a little more strength behind consumer spending because you're not very dependent on a small core of very wealthy households to power the recovery."
So the days of bigger yachts for the 1%, while most folks struggle with stagnant wages, may be winding down. If you're a 1-percenter, your time is up. Ditch the top hat and monocle — because the 99-percenters are about to take over. Well, sort of…
But before I get into the details, you have to know one thing: this isn't because Big Business is paying the peasants more to stave off some Occupy Wall Street revolution. And it's got nothing to do with government legislation or any other massive, forced redistribution of wealth either. Nope. The job market's just getting more competitive. And that rising tide is lifting all boats…
To get a better idea of this trend, take a look at this chart: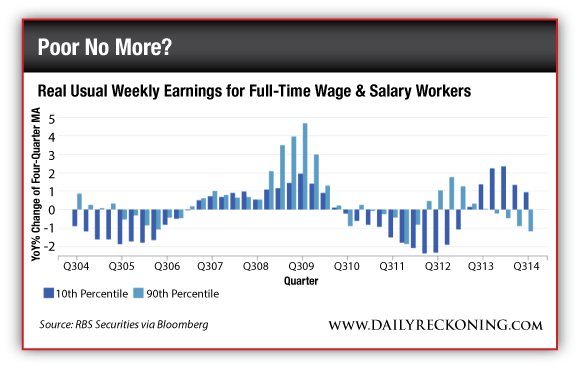 Yes, it appears that there's a light at the end of the hourly-wage tunnel.
As you can see, the weekly earnings of lower paid workers (represented by the dark blue) have been rising, while those near the top have fallen off.
Sure, a lot of consumers' good vibes are courtesy of lower fuel prices. The average price of a gallon of gas has not risen for 60 days, according to Bespoke Investment Group. That's the second-longest streak over the last ten years.
I know, I know. I've been a broken record when it comes to gasoline. And you might think the drop in gas prices over the past couple of months is no big deal. To be fair, it's not for your average upper middle-class family. But for those who the recovery left behind working the fast-food drive thru, I can guarantee you that cheap gas is a godsend. These are the people who are going to be spending more this month as the holidays approach.
In fact, this trend is already playing out in the stock market. Just look at discount retailers like Walmart (NYSE:WMT). Walmart shares are up more than 11%… since Nov. 1st. For perspective, the S&P 500 is up about the same amount for the entire year.
Now's your shot to trade these stocks for double-digit gains…
Regards,
Greg Guenthner
for The Daily Reckoning
P.S. This holiday season, discount retailers are set to deliver phenomenal gains to a newly-charged consumer base flush with cash. So why not own a best-of-breed discount clothing store knocking on the door to new highs? If you want to cash-in on the biggest profits this market has to offer, sign up for my Rude Awakening e-letter, for FREE, right here. I'll be tracking the sector very closely, and sharing ally my findings — including huge potential winners — with my readers. Don't miss out. Click here now to sign up for FREE.