How Retail Investors Could Double Your Money In 14 Months
Stocks keep rising — and people are finally starting to believe this bull market is for real.
That means one thing: a lot of ill-informed, rookie investors (AKA retail investors) are now jumping into the shark tank — I mean, the stock market. And luckily for you, there's a way you can double your money while these newbies get eaten alive.
Fiendish? Cruel? No, I'm not talking about trading against them. You won't be profiting from someone else's misfortune. What you'll be doing is completely ethical — you'll be profiting from the discount brokerage firms whose stocks will soar as all this new money from retail investors pours into them.
And like I said, I think you can double your money here. In about 14 months. I'll explain exactly what to do in a minute.
So here's what's happening…
Remember back in February, when I warned you that the idiots would be coming? That poorly informed "traders" and retail investors would soon be jumping at the chance to start throwing their hard-earned money at the stock market once again?
Well, it's finally happening. And right now, we're at a watershed moment…
That's because the data is in — and trading activity is shooting through the roof. Three major discount brokerage firms — TD Ameritrade, E*Trade, and Charles Schwab — are showing that retail investors started jumping back into the stock market in September and October, according to TheStreet. Daily average trades jumped more than 8% in September — and nearly 18% in October, compared to last year.
"The number of revenue trades rose across the board among the three brokerages, with TD Ameritrade and Charles Schwab posting the biggest gains," TheStreet reports. "For Schwab, October's data was the highest monthly volume seen in at least six years." Yeah, you read that correctly. Six years. Looks like maybe the hangover from 2008 is finally wearing off…
As you can see, we're beginning to notice more signs pointing to sanguine retail investors…
"This is the first time since at least 2009 where there has been two consecutive months of positive year-over-year trading growth," according to Jonathan Gerstein, director of Analytics and Consumer Insight for TheStreet.
Trading volume has steadily increased for months. And over the next few quarters, we should see some real traction in this sector. Yessiree, it looks like the discount brokers are coming back to life.
And here's the key: few discount brokerage stocks recovered with the market after stocks bottomed out in 2009. Even factoring in its recent rise, E*Trade stock has lost more than 90% of its value over the past eight years. 90%! Talk about beaten down…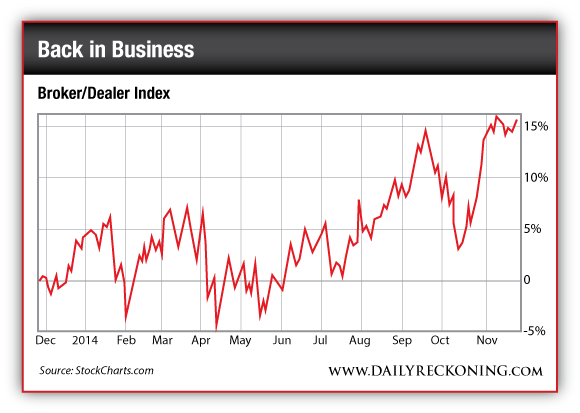 That beatdown gives these stocks plenty of room for a massive comeback. In fact, I would not be surprised to see the brokers as one of the best performing sectors on the market next year.
Regards,
Greg Guenthner
for The Daily Reckoning
Ed. Note: In addition to this analysis, Greg gave readers of his Rude Awakening e-letter a list of 5 important numbers to watch and 3 unique chances to discover specific, actionable profit opportunities. All this and more come complete with your FREE subscription to The Rude Awakening. Don't miss another issue. Click here now to sign up for FREE.