Time to Load up on Trucking Stocks as a New Oil War Gets Underway
The United States is once again at war in the Middle East. And this time, we're up against a different (and unexpected) foe: Saudi Arabia.
Neither side has yet to fire a single shot in anger. And neither side will. In fact, this new conflict won't involve soldiers, tanks, ships, or bombers. No. This is economic warfare, pure and simple.
I'm talking about a new oil war.
And if you're on the losing side of this oil war, your investments could get crushed. However, just one shrewd move could land the trade of the year right in your lap. That's because you can nab runaway profits as this war kicks into high gear. How? Keep reading…
First, some background: To the surprise of most experts, the Saudis were also able to convince their fellow oil-exporting friends not to cut oil supplies in talks over the long holiday weekend. So, while your neighbors were fighting over flat screen TVs in the Walmart parking lot, the Saudis convinced OPEC not to combat freefalling oil prices.
Doesn't sound like a declaration of war against the U.S., does it? Well, it was.
As Reuters explains, "Saudi Arabia's oil minister told fellow OPEC members they must combat the U.S. shale oil boom, arguing against cutting crude output in order to depress prices and undermine the profitability of North American producers. Ali al-Naimi won the argument at Thursday's meeting, against the wishes of ministers from OPEC's poorer members such as Venezuela, Iran and Algeria which had wanted to cut production to reverse a rapid fall in oil prices."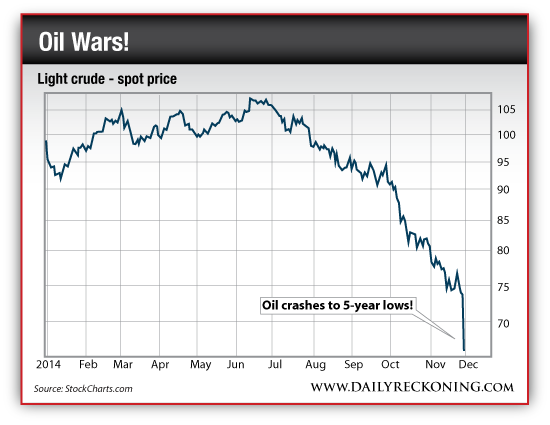 The Saudis want to drive U.S. shale oil producers out of business. That's economic warfare.
And with the other OPEC nations caving to the Saudi's, the battle has begun. The House of Saud wants a price war with the U.S.— and they're getting it.
Back in October, I told you the shale oil boom has now juiced supplies to the point that we have way too much oil sloshing around. Their report trumpets the fact that the U.S. is now pumping more crude than Saudi Arabia…for the first time in over 40 years. Apparently, they're not too thrilled.
They don't seem to care if Russia or Iran suffer, either. Or perhaps they want Russia and Iran to suffer. After all, the Russkies and Iranians are backing the Syrian government's civil war. The Saudis are backing the opposition. Hmmm…Coincidence?
Anyway, back to reality. What does all this mean for you?
For one thing, I think you can forget about a huge bounce in the price of oil anytime soon. Crude is below $65 as I type—a level that was unthinkable just six weeks ago. In fact, if you told me crude would drop to $64 before Christmas back in October, I would have laughed in your face.
Obviously, this is also bad news for the domestic oil producers. Stay away from them for now. The hot money won't touch these stocks with a 50-foot pole. And I think we see even lower prices from here.
"Oil at $80 and under will undoubtedly squeeze some operators at the margins," our own oil expert Byron King notes. "Low oil prices make it harder to fund some high-priced projects. Lower oil prices will likely lead to a modest slowdown in oil patch expenditures. Some wells won't get drilled; but $80 oil does not derail the trains."
Your best bet right now is to forget about trying to trade these domestic oil patch names. There are powerful forces working against them. There's no turning back now. Instead of hoping and wishing these oil stocks find a bottom, you should follow the money to the new hot sectors. Think retail and transportation…
Regards,
Greg Guenthner
for The Daily Reckoning
P.S. If you're on the losing side of this oil war, your investments could get crushed. However, just one shrewd move could land the trade of the year right in your lap.  If you want to cash in on the biggest profits this market has to offer, sign up for my Rude Awakening e-letter, for FREE, right here. Don't miss out. Click here now to sign up for FREE.