How to Short Copper for a Quick 30% Gain
Ever see one of those old Roadrunner cartoons where Wile E. Coyote falls off a cliff after the cagy roadrunner tricks him? At first he just hovers there, then, wham, he goes into freefall.
Well, that's what's happening to copper right now…
Copper is crashing. And it could be the final nail in the coffin of the commodity "super cycle" that began about 15 years ago. Yup, this could be the big one for commodities…but it could also be your ticket to 30% gains over the next few months alone as copper falls even further. More on how you can play this powerful trend in just a minute. But first…
You have to go back to the lost decade and the great commodity boom to fully appreciate how far this base metal has run— and how far it could plummet. From 2001 to 2011, the price of copper exploded more than 620%, topping out near $4.50 a pound. That's a huge. And the breakdown we're seeing now could easily send copper prices to $2 or lower over the next couple of years. Ouch!
Sagging economies in both China and Europe are reducing demand for copper, while supplies are growing. China alone has accounted for over 40% of all copper consumption in recent years. But the party is winding down. China's economy is forecasted to grow by just 6.8% in 2015 and 6.5% in 2016, which will be the slowest growth rates since the early '90s. Meanwhile, Chile, the world's largest copper producer, expects to produce record levels of the stuff in 2015. In case you're new to this sort of thing, that ain't good for copper. Supply is far exceeding demand.
But things weren't as clear this summer. Back in August, we were tracking copper and other base metals through the PowerShares DB Multi-Sector Commodity Trust Metals Fund (NYSE:DBB). It looked like copper could climb higher. Why? DBB had enjoyed a massive rally that began in June (it was capitulation selling back in March that lit the spark). And after some consolidation in the $17-$18 range, it looked like a breakout was imminent.
But as you can see, the base metals quietly topped out. One look at DBB now shows the dreaded double-top—and the subsequent breakdown that leads us to the moment of truth: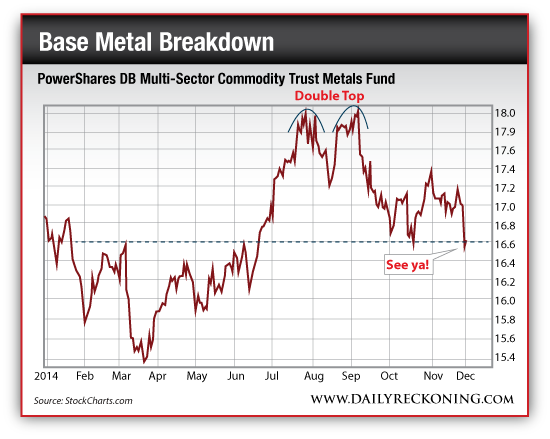 The leading culprit in the breakdown? Copper. And right now, $3 copper – which we saw in November – is fading fast in the rearview mirror.
We've highlighted the psychological importance of the $3 level in copper prices many times before. And for the past several years, copper has managed to save itself every time it has breached $3. Before its most recent breakdown, copper snuck below $3 back in March. But by April, it had rallied back above the mark once again. Not this time…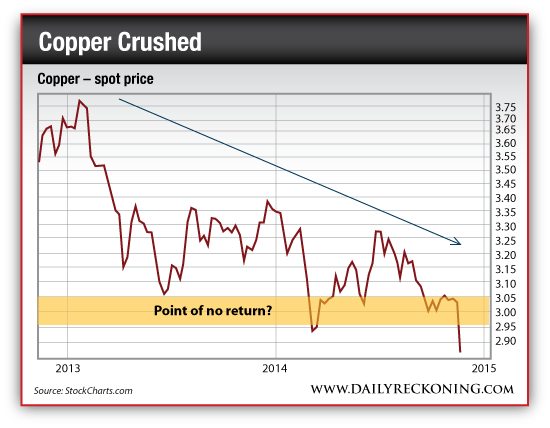 It doesn't look like another miracle comeback is in the cards.
As you can see from the chart, copper is having its Wile E. Coyote moment. The metal has slowly trended lower since it peaked near $4.50 in 2011. But now…copper has finally broken below critical support. It appears to be in freefall. We're looking at prices not seen since 2009.
So what does it all mean?
For starters, I think copper's drop is just another victim of the great commodity unwind we've experienced this year. A lot of folks might point to copper's reputation as a leading economic barometer since the metal is found in virtually all electronics and countless other industries. But this relationship hasn't been the case for quite a while. Copper has drifted since 2011, while stocks have found new highs. So I don't think this drop is foretelling a massive stock market event.
With extreme volatility rattling precious metals this week—and copper joining the crash party—the prudent move is to avoid commodity names until we see some more constructive action. The dominoes are falling across the commodity market, and I frankly don't trust a lot of the action I'm seeing out there right now.
Regards,
Greg Guenthner
for The Daily Reckoning
P.S. Sometimes the fruit is hanging so low we'd have to be fools to ignore it. This is one of those occasions. This copper producer is getting shellacked– and I want you to be able to take advantage of the carnage..  If you want to cash in on the biggest profits this market has to offer, sign up for my Rude Awakening e-letter, for FREE, right here. Don't miss out. Click here now to sign up for FREE.