"Is This Market Making You Sick? Buy Big Pharma for a Safe 25% Gain"
Commodities have schizophrenia.
Energy is going down in flames…and the major averages are retreating from their highs. Add it all up and you probably feel like stuffing your cash in the mattress right now. So what do you do when you have no idea how to put your hard-earned money to work?
Don't worry, my friend— I've got an answer for you. Because there's one market sector that's outshining all others. By a lot. And I'm going to tell you the best way to ride that surging wave for a nice, safe 25% profit.
So where can you find the big market winner right now?
Look no further than Big Pharma.
That's right. Large-cap drug companies are crushing 2014. They're the undisputed heavyweight champs of the year—no other challengers even come close. And that's where you need to be right now.
I'm not talking about smaller drug companies here. Just the big boys. I'll explain why that is in a minute…
See, if you want to make money in this crazy market, you have to pinpoint the major winners and ride them until the trend is finally exhausted. And right now, the biggest winner is Big Pharma. We tend to be contrarians around here – but we're smart contrarians. Unlike a lot of traders who think they're geniuses just because they read some book, we're not contrarian just for the sake of it. Sometimes, the best thing to do is follow the trend. There's simply no way around it.
Why? Because if you're focused on the wrong market sectors, you could lose your shirt. Here's what I mean: although few investors realize it, even though the major averages are rising this year, thousands of stocks are in the gutter. In fact, one notorious, anonymous blogger has compiled some compelling data that shows just how perilous the whole stock-picking affair has been in 2014.
Here are his numbers – and I warn you, they might make your jaw drop:
Year to date, 1,492 stocks are up more than 10%. Sounds great, right? But…1,567 stocks are down more than 10%. And while 391 stocks are up more than 40% on the year…557 are down more than 40%. And you thought picking stocks was easy? Man…
So, even though the S&P 500 is up more than 11% year-to-date— a darn good year— more than 1,500 stocks are wallowing in double-digit losses. That means there are over 1,500 serious landmines out there that could devastate your year. And many of these might be perfectly good stocks. They're just in underperforming sectors. So our job is to avoid these lousy trades, while zeroing in on the most powerful trends in the market.
And the most powerful trend right now, like I said, is Big Pharma. Don't believe me? Feast your eyes: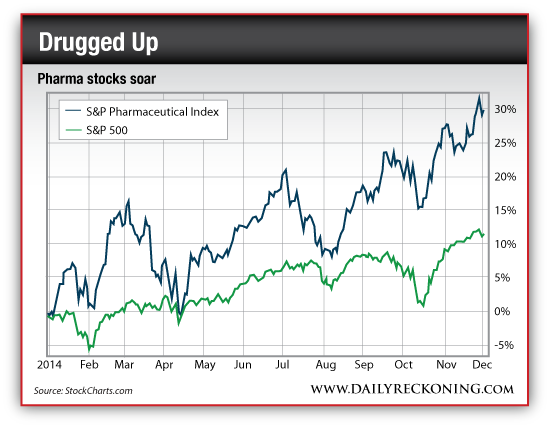 The S&P Pharmaceuticals Index is up 30% in 2014. That is not a typo—30%! The S&P 500 has only mustered a modest gain of about 11%. For comparison's sake, energy stocks are down a collective 8% this year (they're the worst performing major sector, year-to-date).
These pharmaceutical stocks are screaming higher nearly every week. They were some of the first to make new highs after the sharp market pullback in October—and they're also among the strongest stocks on the market this week as many major sectors (like tech stocks) have begun to weaken.
Write this down: heading into the holiday season, large-cap pharma stocks are your best shot at a safe, winning trade. Here are a couple of rules to keep in mind when searching for the right one.
Think big. The bigger the market cap, the better. Think billions—not millions. I told you earlier to avoid smaller drug companies. Why? Because the market has a bias toward bigger stocks right now. Let's not fight it…
Don't fear all-time highs. Many of these stocks are breaking out to new highs this week (such ast Alexion Pharmaceuticals (NASDAQ:ALXN). Remember, you want to own the strongest names in the strongest sector. Don't go fishing around for the bottom feeders here.
Regards,
Greg Guenthner

for The Daily Reckoning
P.S. Heading into the holiday season, large-cap pharma stocks are your best shot at a safe, winning trade. The bigger the market cap, the better.  If you want to cash in on the biggest profits this market has to offer, sign up for my Rude Awakening e-letter, for FREE, right here. Don't miss out. Click here now to sign up for FREE.