How to Cash in on Housing's Big Comeback — Without Touching Housing Stocks
Homebuilder stocks are screaming higher. But if you don't want anything to do with housing stocks, that's OK. Because if you know where to look, you don't have to buy a single one to book double-digit gains on this powerful trend. Instead, you've got a chance to book an easy 15%-20% gain by riding on the coattails of the housing rally.
I'll explain how in just a minute…
Remember last month, when I told you how the American dream can help you double your money?
Well, did you take my advice and buy housing stocks? If so, pat yourself on the back.  You're off to a great start. If not, you have a second chance to play this trend, again, for easy double-digit gains.
Yup, we were spot on with that call. Housing's been on a tear lately. The leading housing ETF has surged 20% off its October lows. That means the homebuilding sector has gone from one of the absolute worst sectors on the market in 2014 to breakeven in less than two months. And I believe the homebuilder breakout that is putting this sector on track toward becoming a new market leader in 2015
Despite what many "experts" are saying, the housing market is not a graveyard right now. And we're not seeing huge monthly price increases with crazy bidding wars like we witnessed a decade ago before the housing bubble exploded.
This time around, we're only looking at a return to a normal housing market. But after the housing bust we've endured since the early days of the financial crisis, returning to "normal" could actually be a boon for homebuilders…
Up until this November, homebuilder stocks hadn't fared very well. This sector dropped about 25% from February through October. And Bloomberg and other financial news outlets declared them to be "vulnerable to further declines."
Yeah, sure…
Except that's not what happened — not by a long shot. Gee, there's a shock. The mainstream financial media got it all wrong. First time for everything, right? Puh-leeze…
As you can see, housing's comeback has already begun. I showed you the breakout back in early November. Remember this beauty of a chart?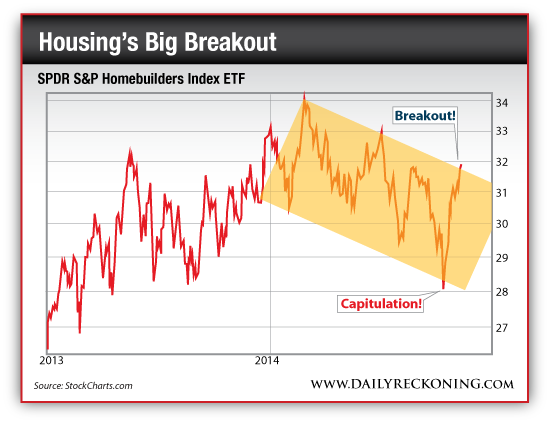 Well, that little breakout has turned into the beginnings of what could be a monumental move. That's a powerful rally… and it could just be getting started…
So, while everyone else is completely fixated on the never-ending drama unfolding in the energy markets thanks to the tumbling price of oil, you have the opportunity once again to ride on the housing market's coattails while other investors are distracted by the daily barrage of headlines about where in the country gas prices have dropped the most…
But here's the kicker — as I said earlier – if you're uncomfortable with housing stocks, you don't even have to buy a single homebuilder stock to take advantage of this potentially market-shifting breakout. In fact, there's another group of businesses out there that are set to bask in the spoil of the homebuilder's gains. Heck, they might even outperform the homebuilders themselves in 2015.
I'm talking about home improvement retail stores…
For the first eight months of the year, home improvement retailers like Lowes Companies Inc. (NYSE:LOW) were stuck in stock market purgatory. These stocks were down and out because they were the worst of both worlds—both retail and housing-market related stocks were out of favor. No wonder stocks like LOW went nowhere… until late August. That's when the party started.
Lowes saw its shares start to rocket higher. In just a few weeks, it was beating the S&P 500. And last month, the stock absolutely exploded. Take a look: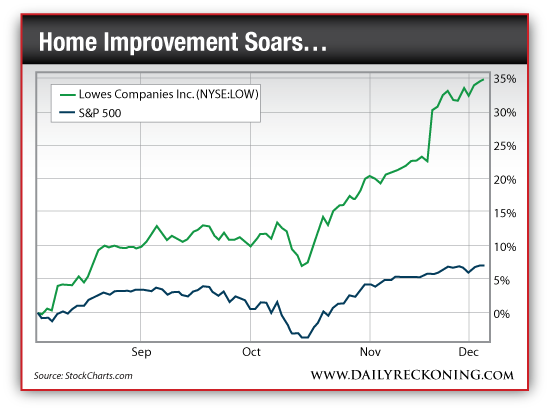 All told, LOW jumped more than 35% in less than four months. The company seemingly has everything going for it heading into the holiday season. Third quarter earnings jumped more than 25%. Management raised its full-year sales forecast. And its expansion into Canada is going well. What's not to like?
Regards,
Greg Guenthner

for The Daily Reckoning
P.S. They might even outperform the homebuilders themselves in 2015. If you want to cash in on the biggest profits the market has to offer, sign up for my Rude Awakening e-letter, for FREE, right here. Don't miss out. Click here now to sign up for FREE.