How Banking Stocks Can Make You a Fat 25% Gain
The big, bad banks that everyone loves to hate — that you probably love to hate — are breaking out. Big time.
And if you want to score a nice, fat 25% gain, hold your nose and hit the "buy" button… because banking stocks are thundering back after five years in the garbage dump.
Yup, we're laying a bet on the odious (and odorous) financial institutions that crippled the world economy just seven short years ago.
Look, I completely understand if you find the big banks repulsive. If you can't bring yourself to shell out some coin on the vampire squid, then maybe you should shut down the ol' computer and go back to reading the sports section. Or maybe check out TMZ.
Still with me? OK, so here's why we're betting on banks today…
I've said it before and I'll say it again: If you're invested in the wrong sectors, the market will stomp out any hope you have at serious gains gains. And right now, financials are looking really good.
Earlier this year, the financial sector was a bloody mess of busted charts and broken trades. You had no business going anywhere near it—period.
Financial stocks looked as bad as they smelled. And yeah, they smelled awful. In fact, out of the major sectors, only consumer discretionary stocks were performing worse than these financials halfway through the year. Regional banks in particular were taking it on the chin. And it wasn't just the little banks that were flailing. J.P. Morgan Chase, Citigroup and Bank of America – you know, those guys— were all red on the year by June. Please… no tears.
But it went deeper than that…
You see, the financials have been one of the weakest sectors in the entire market since the post-financial crisis bull market began all the way back in 2009.
"It's the only market sector that hasn't hit historic highs," explains renowned technician John Murphy over at StockCharts.com. "Financials have been market laggards over the last seven years…"
See where I'm going here? Bingo — you guessed it…
This streak of mediocrity is quickly coming to a close. Financials are beginning to flex their muscles—and they may be starting to catch up with the rest of the market, Murphy says. And you know what that means. Yes sir, we're ready to buy. Still can't bring yourself to pull the trigger?
Consider this:
The Financials Select Sector SPDR (NYSE:XLF) is hitting new year-to-date highs. Banks are starting to outperform the S&P 500 — after getting clobbered earlier this year. And short-term interest rates are finally starting to rise — which is huge for banks that have suffered years of historically low rates.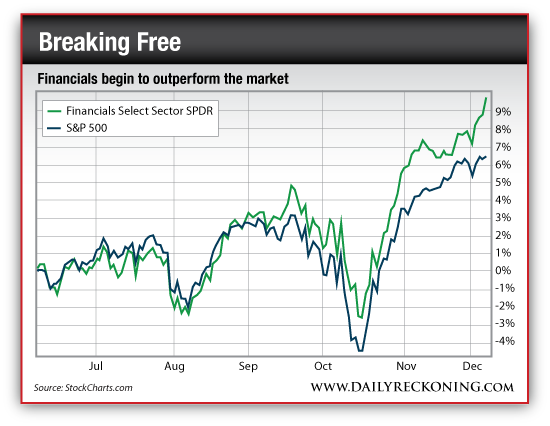 After its furious rally off the October lower, XLF is now up nearly 10% over the past six months, compared to a gain of only about 6.5% for the S&P 500. Sure, they're late to the party. But these stocks are primed and ready for serious gains heading into the holiday season.
Regards,
Greg Guenthner

for The Daily Reckoning
P.S. If you still have a bad smell in your nostrils, don't worry. You'll feel better about it after you get a fragrant whiff of that crisp new money sitting in your account. If you want to cash in on the biggest profits the market has to offer, sign up for my Rude Awakening e-letter, for FREE, right here. Don't miss out. Click here now to sign up for FREE.