ALERT: Sell Fast Food Stocks Today – and Buy Organics
I said it in October. And now I'm saying it again – only louder – McDonalds is crashing. And if you haven't gotten out yet, do it now. As in…yesterday!
The tipping point has arrived. The fast-food giant is giving up its throne even faster than I first imagined. And you've got a golden-arched opportunity to make a killing betting against this fast food has-been.
I'll explain how in just a minute…
But first, here's what I told you back in October as McDonalds stock first began to break down:
Whatever McDonald's excuses are for laying an egg this earnings season, one fact is undeniable: Unhealthy, traditional food offerings are on their way out the door. And anyone owning shares of the junk-peddlers will suffer in the long-term. The stock is already breaking down to new lows on the year. It's only a matter of time before shares find themselves locked in an even nastier downtrend.
Remember that? And guess what – that's exactly what's happening right now. Yesterday, McDonald's shares were down more than 3% in morning trading. Yikes! Could it get any worse for the deep-fried junk pusher? Actually, yeah, it could…
As Business Insider reports, "In the US, the story was even worse for the fast food giant, as same-store-sales fell 4.6%". Same-store-sales represent sales at all McDonald's restaurants open at least 13 months, including those temporarily closed." That's more than twice the 2.1% decline analysts predicted…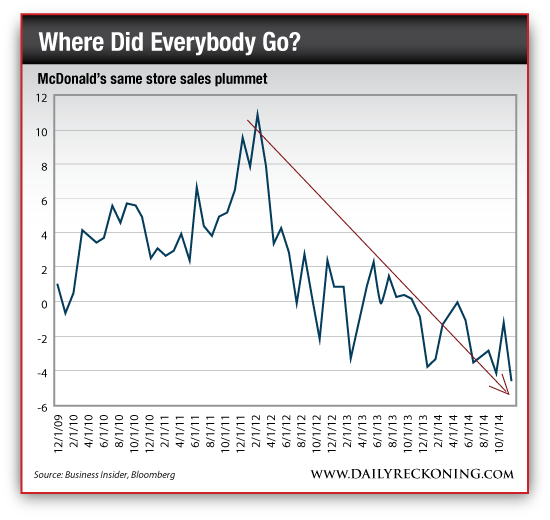 Oh, and fourth quarter sales? Forget about it. The burger chain is expecting another terrible showing. They're blaming supply issues and a strong dollar for their troubles this time around.
Yeah, OK, whatever. The simple reality is that McDonalds is a dying brand that's quickly succumbing to the changing eating habits of millions of people. What's taking its place? Organics.
And here's your opportunity to profit from this sea change…
Make no mistake—one of the biggest trends you will experience over the next five years is the rise of organics. I first told you about it in October. From healthy grocery stores to better fast-food and casual dining options, you'll soon have dozens of higher-quality options whether you're looking for a quick bite to eat or some locally cultivated, hormone-free snacks to take with you on your way to the office.
And if you think the lines are too long at Chipotle today, just wait a couple of years. The made-to-order, high-quality, "make-your-own-choice" fast food model is starting to take off. One salad chain using a similar system called Sweetgreen has already raised more than $40 million from venture capitalists—although it's currently limited a handful of locations along the East Coast.
So, if you've ignored my pleas to ditch McDonald's in the past, now's the time to pull the damn trigger. Sell it, and ride the new fast food revolution…
Regards,
Greg Guenthner
for The Daily Reckoning
P.S. If you've ignored my pleas to ditch McDonald's in the past, now's the time to pull the damn trigger. Sell it, and ride the new fast food revolution. If you want to cash in on the biggest profits the market has to offer, sign up for my Rude Awakening e-letter, for FREE, right here. Don't miss out. Click here now to sign up for FREE.