How to Make Double-digit Gains in Microcaps
Stocks got hammered yesterday morning. And it opened up a huge trading opportunity for you today.
That's because yesterday morning's bloodshed set the table for a potentially massive year-end rally in one market sector I'm about to show you.
In fact, I think you stand a fighting chance to book double-digit gains by early next year… if you pull the trigger now. You've got to act quickly.
Before I show you what I'm talking about, here's what led to today's trade: The world had fallen apart late Monday. Greece's market cratered nearly 13% (it's worst one-day collapse in nearly 30 years). And China's Shanghai Composite tumbled more than 5%. These actions torpedoed U.S. stock futures, resulting in an early 200-point fall in the Dow, setting up an afternoon full of panic and margin calls…
Traders were reaching for their puke bags early Tuesday morning. Most were looking to jettison their stocks, get short, and hide under their desks. One crappy morning cancelled any hopes of a holiday rally.
Or...not?
By the end of the trading day, stocks had climbed out of their pit of despair. After drops of more than 1.5% in the major averages, the S&P broke even, the Nasdaq finished the day 27 points higher, and all of the cowering traders popped back up by mid-afternoon to pound the "buy" button. Screw China—and screw Greece, too. U.S. stocks just don't care.
But the real winner after all the bloodshed (and the market's remarkable comeback) is small-cap stocks. After coughing up more than 1.2% at the open, the Russell 2000 small-cap index caught a bid and finished the day up 1.8%. That's right—the Russell posted a 3% gain trough to peak, stomping the throats of the major averages.
Tuesday's action changes everything. As you probably already know, small stocks have taken a back seat to their larger cousins this year. And they're usually out in front of the biggies. While the S&P has gained more than 11% year-to-date, the Russell has gone nowhere. Yesterday's late surge barely puts the index in the green for the year.
However, it's becoming clear to me that smaller stocks are in the early stages of reclaiming their leadership role. The Russell is flat-out crushing the S&P since October 13th – that's the week stocks bottomed out and began their big fall rally.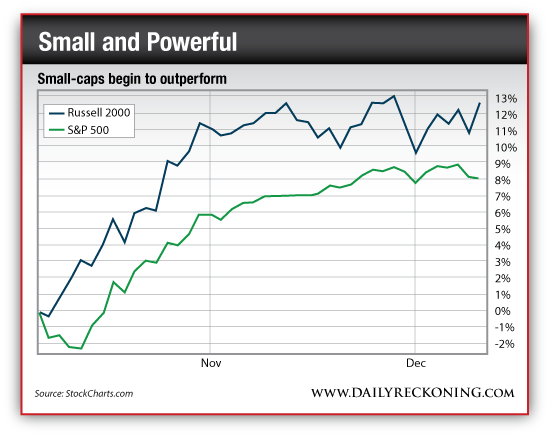 The Russell is up nearly 13% over the past eight weeks, compared to an 8% gain in the large-cap S&P 500.
This newfound strength is your signal to grab onto these smaller stocks now before they really begin to blast off into the final weeks of the year. Seasonally, we're in a very strong period for stocks—and comeback plays like this one. It's your best shot at a Santa Claus rally that could put a nice gift under your tree before the year is up…
Regards,
Greg Guenthner

for The Daily Reckoning
P.S. If you want double-digit gains before winter is up, microcaps are your ticket. Hop on for the ride today…If you want to cash in on the biggest profits the market has to offer, sign up for my Rude Awakening e-letter, for FREE, right here. Don't miss out. Click here now to sign up for FREE.