No More Santa Rally – But Utilities Are A Screaming Buy
After yesterday's shellacking, investors are beginning to get spooked. Wednesday's 268-point gut-punch to the Dow is leaving little hope for a Santa Claus rally to swoop in on its sleigh and deliver any gifts this week.
So you know what? We're heading for safety. And we plan to make a sharp 20% gain as a result. What's the "safety trade" right now?
Utilities…
That's right. Despite the shaky market right now, this year's "safety trade" is alive and well. In fact, we're staring a fresh breakout right in the eyes this morning.
Here's the deal…
Ever since the market got off to a rough start early this year, utilities have been the Rock of Gibraltar. Social media stocks tanking? Buy utilities. Retail stocks suck? Buy utilities. That's made utilities one of the best performing major sectors in 2014. In fact, utilities as a group are up nearly 26% year-to-date.
To put that in perspective, the S&P 500 is up just about 10%, while the sorry energy stocks that were kicking butt until recently are now licking their wounds with an 11% loss on the year. So where are we going now that the energy market is enduring one of its worst meltdowns in years?
I think you know where I'm going with this one…
Yeah, you got it – utilities.
Back in the spring, hedge funds went heavily into consumer goods, utilities, and energy stocks. How's that lookin' right now? Well, despite the strength of utilities and consumer goods overall, the ongoing energy crash is gutting these same funds today. Hey, Merry Christmas, boys!
Seasoned traders are now spotting signs of sell-offs across the board. And if the market is getting defensive after Tuesday's recovery, utilities will be the perfect place to ride out the storm.
However, utilities aren't just a safety net. They're also pretty damn profitable this year. Don't believe me? Check out a utilities trade we booked earlier this year…
Back in August, the utilities sector was taking it on the chin. These stocks were down almost 10% over the course of a month. The "safety trade" overheated, and utility shares started to quickly unravel.
That's when we pounced. Take a look at the beginnings of the snapback rally that led to 12% gains: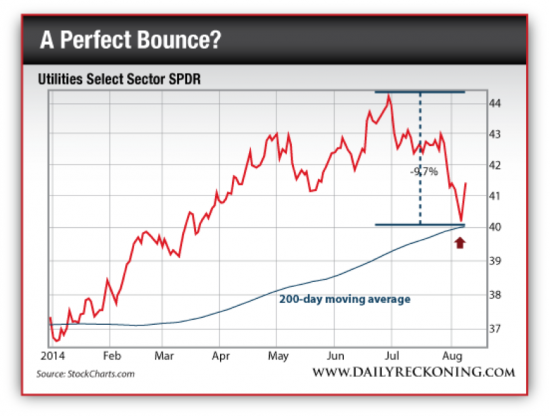 A picture-perfect bounce off their long-term moving average helped reignite the utilities trade back in the late summer. Now, these stocks are on the move once again. Consider it your second chance to ride one of the best sectors on the market today. In safe harbor, no less.
What? You still don't believe that utilities have been superstars this year? Take a look for yourself: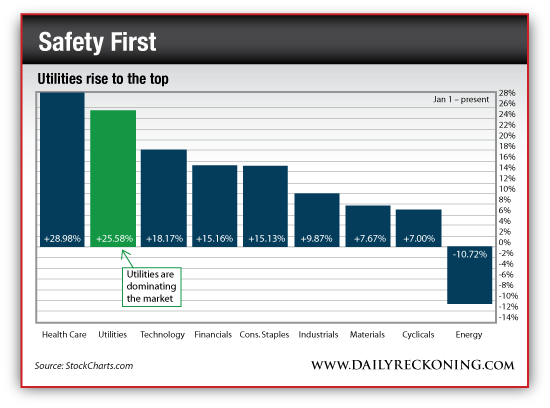 As I said earlier, these babies are up nearly 26% year-to-date, while the S&P 500 is up about 10%. And forget about the sorry energy stocks. I wince just thinking about 'em.
Look, there's no reason to mince words here: This oil crash is really kicking stocks in the teeth right now. And we don't know what the longer-term ramifications of $60 oil (or less) are right now. So as stocks continue to tumble, your best bet heading into the holidays is to have our safety trade in your back pocket.
Regards,
Greg Guenthner

for The Daily Reckoning
P.S. Put some utilities in your stocking right now–and sleep easy. If you want to cash in on the biggest profits the market has to offer, sign up for my Rude Awakening e-letter, for FREE, right here. Don't miss out. Click here now to sign up for FREE.