Buy Facebook Now for Gains up to 76%
Today, I'm going to show you how to bag a gain of up to 76% on Facebook shares- maybe within a month!
Sounds crazy? It's not. It happened last year – and it could happen again this year – with another hot social media stock.
First, let's turn back the calendar to December 1, 2013. A popular social media stock called Twitter (NYSE:TWTR) just hit the market a few weeks earlier. The IPO attracted plenty of interest—yet the stock appeared stuck near $40. But you– being the savvy trader that you are– noticed the beginnings of a breakout, so you picked up shares in early December.
That's when things got interesting…
Twitter didn't just start to move higher—it exploded higher. By the day after Christmas, Twitter was trading north of $73. That's a clean 76% gain in less than a month. You sold and ended the year with a fresh wad of money in your pocket. Congrats!
But don't worry if you missed out on last year's Twitter rally. Because now you have a second chance to jump on a social media runner for these kinds of gains this year. And in case you missed it, let me repeat—you could make gains of up to 76% in about a month. But you've got to pull the trigger now.
Yes, I know I've thrown social media stocks under the bus lately. You can see the tread marks on the backs of Yelp Inc. (NYSE:YELP), LinkedIn Corp. (NYSE:LNKD), and even our old friend Twitter. All of these stocks are far off their highs. In fact, Twitter's down 35% from its October peak. While the rest of the market managed to recover, last year's big runners continue to fall apart at the seams…
It's too easy to joke on most of these stocks. They have stupid names. And let's face it—most of them are pretty damn expensive. If you're searching for value plays, I don't think Yelp is going to make your short list.
However, not all of these ridiculous stocks will end the year in the gutter. After all, 'tis the season for random melt-ups and unexpected comebacks. While your colleagues are getting drunk and embarrassing themselves at the company Christmas lunch, some of these stocks are prepping for takeoff.
Here's the key takeaway: the beaten-up social media industry might actually be settling into a bottom right now. And that means a tradable bounce could be on the way in short order. Take a look: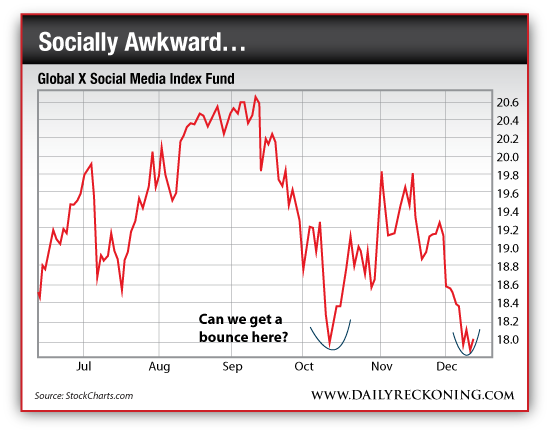 As of this morning, it appears that social media names are bottoming out right where they turned higher back in October. And there's one stock in particular that looks primed to make a move that will make you think it's Christmas 2013 all over again…
This potentially huge short-term play is one you won't want to miss. It's a familiar stock that we've successfully traded a few times this year. Today, it's setting up once again for another big move. I'm talking about best-of-breed social media superstar Facebook Inc. (NASDAQ:FB).
Remember, these popular social media stocks have offered traders like you some of the strongest bounces I've seen once they put in a bottom.  And that's exactly what we've seen now that Facebook has finished consolidating. Take a look: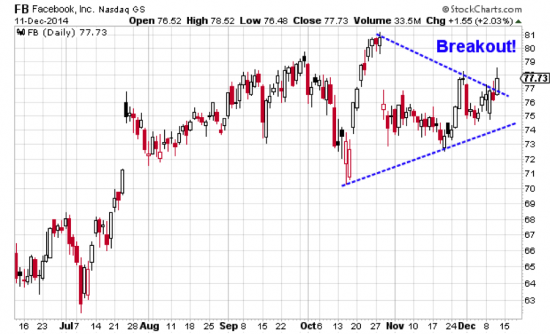 I like this setup because Facebook has not only been stronger than almost every single other social media stock on the market—it's also beginning a powerful move that should quickly to push it to new all-time highs.
Regards,
Greg Guenthner

for The Daily Reckoning
P.S. Like I said, you could be seeing gains of up to 76%. But you've got to act now.  If you want to cash in on the biggest profits the market has to offer, sign up for my Rude Awakening e-letter, for FREE, right here. Don't miss out. Click here now to sign up for FREE.