Protect Your Portfolio Against Crashing Oil Prices — Now
There's no use sugarcoating it anymore…
The financial press has called it everything from a swoon to a major pullback. Gimme a break. It's time you heard the simple truth: Oil has crashed. More accurately, oil is crash-ing. This blow-up might not be over just yet…
But the oil crash has opened one huge door of opportunity for you. How? By letting you bet against the oil-producing countries this historic beating is tearing to shreds.
Think the Russians need a smackdown right now? Oil's one of their major exports. Here's your chance to make a bundle as they get hammered by crashing oil prices.
I'll give you the details in just a minute. But first, you need to know exactly how the oil crash is playing out…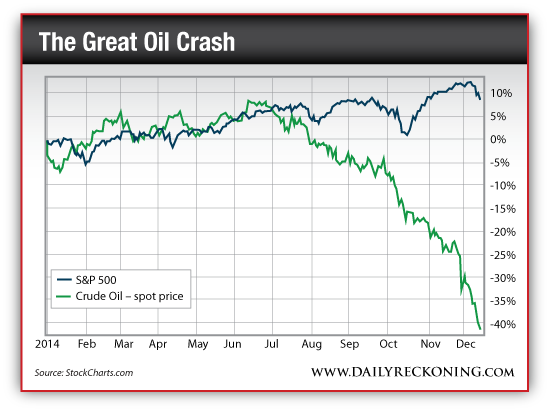 Look, there's no way around it – plummeting oil prices have been dragging down the whole market lately. Energy stocks were kickin' butt earlier this year, which helped drive the major indexes to record highs. But that party's over. In fact, crude's 45%-plus fall from its summer highs is trying its best to ruin what's been a good year for stocks. You only have to look to last week's performance to see the pain firsthand…
"The big S&P 500 index sold off more than 3.4% between Monday's open and Friday's close, a big enough drop to make it the S&P's worst week of 2014," Jonas Elmerraji reports from our trading desk over the weekend. "In fact, it was the worst week for stocks in two-and-a-half years. You'd need to rewind the tape back to May 2012 to find a worse five-day drop."
Ouch…
Need more proof that the oil crash is sending the markets through the wringer? Just look at the losses piling up for the now-vulnerable oil services companies…
"By some estimates the wreckage, particularly for the oil-services companies, may add up to a stunning $1.6 trillion annual loss, at oil's current $57 low," RBC Global Asset Management chief economist Eric Lascelles tells MarketWatch.
But in the grand scheme of things, these losses are nothing. And the real damage from the oil crash isn't to U.S. stocks. Nope. So, who will suffer the most from the crash in oil prices?  Oil-producing countries in emerging markets that could lose billions of oil revenue. Yup, those guys.
The Emerging Market iShares ETF (NYSE:EEM) is in a tailspin. After showing signs of life over the summer, this emerging markets index is tumbling to nine-month lows. Technician John Murphy notes that while EEM has dropped 11% since the oil plunge began, oil producers Brazil and Russia have lost 25% and 40% respectively since July. And yes, you guessed it—they're also the biggest countries in EEM.
So here's the deal…
While the U.S. stock market has enjoyed a rally to new highs since it logged its October lows, most of the world has fallen behind. The "performance gap" is widening—which means U.S. stocks are humming along (aside from last week's slide) while the rest of the globe is diverging and heading lower.
And your best bet to capitalize on the mayhem is by betting against the most vulnerable nations on the planet. But don't feel like you're doing anything wrong. Countries like Russia and Venezuela aren't exactly our closest friends. They'd have no problem having you pay 5 bucks for a gallon of gas. Screw them.
Not only is betting against emerging markets a great opportunity to pad your trading account over the holidays– it's also a solid portfolio hedge against more oil-related turbulence in stocks here at home. If falling oil prices continue to drag down your U.S. stock holdings, you should make those losses back – and then some – by shorting the emerging markets hurt most by plunging oil prices.
Regards,
Greg Guenthner

for The Daily Reckoning
P.S. If falling oil prices continue to drag down your U.S. stock holdings, you should make those losses back – and then some. If you want to cash in on the biggest profits the market has to offer, sign up for my Rude Awakening e-letter, for FREE, right here. Don't miss out. Click here now to sign up for FREE.