The Great Unraveling of the Commodities Super Cycle
Stocks are dropping… again.
But who really cares? These pitiful selloffs are nothing compared to the Great Commodity Crash…
That's right– the real action is over in the commodities markets. That means more lows, more bearish headlines– and more ways for you to make money as they fall off the cliff.
I'll explain what I mean in just a minute…
But first, I want to drill something into your head. This latest turmoil isn't just about the unfolding oil crash we talked about yesterday. No, it's much bigger. As I've explained for months, I believe we're seeing the end of the commodity "super cycle" that began about 15 years ago.
Today, I'm more convinced than ever that commodities are in the "rinse" part of the cycle. And if you don't grasp that basic fact, you could lose your shirt if you have a lot of exposure to them.
Whatever the culprit– whether it's slowing growth in China, India, or other emerging markets– the writing is on the wall. The great unraveling is upon us…
You have to go back to the lost decade and the great commodity boom to fully appreciate how far these commodities have run— and how far they could still plummet. Just a couple of weeks ago, for example, I told you copper was going down. Remember? It had hovered around $3 for months and looked like it might actually recover. Then—wham—the bottom fell out.
It's already below $3, and the breakdown we're seeing now could easily send copper prices to $2 or lower over the next couple of years. I can already hear the fat lady warming up. And remember, the price of copper exploded more than 620% from 2001 to 2011, topping out near $4.50 a pound. That wasn't too long ago.
And now copper has some company. In fact, there's an entire parade of metals and energy plays running off the side of Commodity Mountain like a herd of lemmings. Gold cracked $1,200 after a $30 drop. Silver cratered more than 5% on the day. Copper fell another 2% Natural gas is down. Heating oil is down. Oh, and our main culprit, oil, coughed up another 4%. And that's just yesterday's losses…
That means the price of a barrel of crude has nearly dropped by 50% since the summer. Keep in mind, most of these guys posted eye-popping returns over the past decade and a half.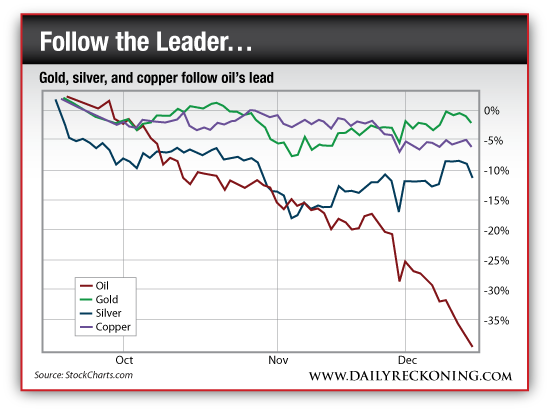 With extreme volatility rattling precious metals and energy markets once again this week, it's impossible to ignore the bigger picture. The commodities "super cycle" is kaput. We already gave copper's eulogy…
Could the same fate await gold, silver, natural gas, and more? Absolutely. The most important tidbit you have to keep in mind during a crash of any kind is that prices will run far lower than most folks can imagine. Groupthink takes over. Investors panic. They're willing to sell at any price just to get rid themselves of an asset they believe will bring them nothing but future pain. And I don't want you to be in that position. Hey, I've got your back, man!
For now, oil is the story. As I explained yesterday, our commodity crash ringleader is dragging down stocks—and it's even derailing hopes of a Santa Claus rally.  Don't get caught playing the "catch the knife" game with crude or energy stocks just yet. Remember, that talking head on TV has been talking about a potential bottom since oil was trading for $85. How's that worked out?
Of course, betting big against commodities comes with its own set of risks, too. Short selling can be tricky. And remember: huge counter-trend have a tendency to come along and wipe out gains in the blink of an eye. That's one reason why I rarely recommend shorting.
And that's also why I want you to book gains close to 20% on your Freeport-McMoRan Inc. (NYSE:FCX) short play. I know we've only held this one for a couple of weeks—but this is your chance to lock in profits during a wild crash. Take the cash and don't look back. You deserve it.
Regards,
Greg Guenthner

for The Daily Reckoning
P.S. I've got a great way for you to play this trend without a lot of risk. If you want to cash in on the biggest profits this market has to offer, sign up for my Rude Awakening e-letter, for FREE, right here. Don't miss out. Click here now to sign up for FREE.